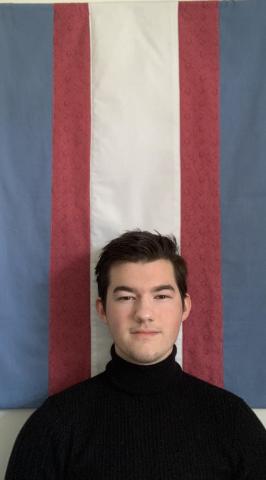 Grant Berg has been the Policy Fellow for OutFront Minnesota for a year and a half, working directly with OutFront through Augsburg University's LEAD program. Grant is passionate about work within the LGBT community, and has been since he began transitioning in 2016. Grant is also involved with the Transgender Equity Council of Minneapolis, which works to inform the Minneapolis City Council on transgender policy issues, and connect the city and transgender community.
Grant recently graduated from Augsburg University with a degree in history with a minor in political science and sociology. Grant is interested in labor, design and environmental history, and LGBT history. Grant is a firm believer in transgender liberation, and transgender uses the words and wisdom of transgender elders like Mother Marsha P. Johnson, Miss Major, Leslie Feinberg, and Silvia Rivera to constantly guide his work.
Grant loves the outdoors, and paddled the Mississippi River from Minneapolis to Carbondale, Illinois two years ago via canoe. Grant also loves biking, hiking, reading, and hanging out with his cat, Merlin.
Fun facts about Grant:
He's not a cat person, but has one anyways.
His wonderful partner hand made the transgender pride flag in his picture!
In 2018 he had the opportunity to give a TEDX talk at the University of Minnesota about being transgender in the Trump era. You can watch it here.