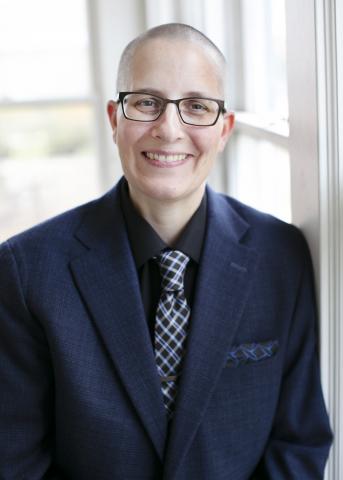 Kelly D. Holstine joined OutFront as the Director of Educational Equity in July of 2019. Holstine works with Minnesota's educators, youth program staff members, advocates, and policymakers to support and create school environments that cause humans to feel safe, respected and valued. She helps educators to decrease inequity and increase LGBTQ inclusivity in their classrooms, schools, districts and youth organizations. She provides support, teaches concrete strategies, facilitates self-reflection, and assists with policy changes.
Holstine has worked and volunteered in the fields of education, media, team building, social services, animal rescue, and theatre. She holds a Bachelor of Arts in Communication from the University of Massachusetts, a Communication Arts and Literature teaching license from Augsburg University, and a Master of Arts in Education from Augsburg University.
Her most recent job was teaching English at Tokata Learning Center in Shakopee, Minnesota. She helped design and open her school in 2012. Kelly has 25 years of experience working with youth and 12 years of teaching experience.
Holstine was named Minnesota State Teacher of the Year in 2018. She is the first LGBTQ teacher and the second alternative educator to be given this honor. She was also the 2018 Minnesota Women Breaking Barriers Winter Honoree, the 2019 MN Lynx Women's Spotlight Selection for Leader and Innovator in Arts and Education, and she was voted as the 2019 MN Women's Press-Favorite Leader in Education. Her personal journey of being a gender non-conforming, lesbian teacher, among other life experiences, has helped her to be an advocate for at-risk students. Her mantra is: Every Heart Matters.
She is a supporter of compassionate accountability, curiosity over judgment, courageous connections, restorative practices, cultural competency, trauma-informed teaching, social emotional learning, experiential education, dynamic containers, inclusive equity, and the power of vulnerability.
Holstine lives in St. Paul with her wife, Emma Freeman, and their rescue pets. You can learn more about Kelly here.
Fun Facts about Kelly:
Hobbies: I love to watch and analyze media (even The Bachelor)!
Pets: Our family has rescued amazing creatures (and we foster!).
Favorite food: Donuts. Always.
Favorite Movies: Eternal Sunshine of the Spotless Mind and Empire of the Sun