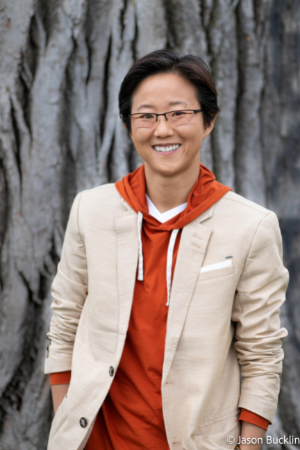 MINNEAPOLIS—In the spirit of LGBTQ+ Pride Month, the OutFront Minnesota Board of Directors joyfully announces the historic arrival of Anna Min (any/all pronouns) as the Interim Executive Director.
Following the bittersweet departure of Monica Meyer after two decades of service to the organization, the Minnesota LGBTQ+ community, and queer movement, the Board of Directors continued to steward OutFront's legacy of leadership by selecting and welcoming the first Queer Woman of Color to lead the organization during a time of meaningful change and transition.
"I believe every moment of change holds a key to a lesson and an opportunity to adjust something. It's when we continue showing up unapologetically that we break through," Min said. "Our beautiful queer community is the webbing that ties together otherwise distant cultures, historically divided races, nationalities, clashing classes, and genders. We advance equity everywhere when we dare to be. That's why we were born enough to change everything."
Min (owner of Min Enterprises Photography, a small business focusing on social justice event photography) has served on the executive boards of District 202, Rainbow Health Initiative, PFund Foundation, and Macalester College's Alumni Board, as well as on grant committees, including the Women's Foundation of Minnesota's Social Change Fund. A nexus of community engagement, Min's longtime clients and collaborators include Headwaters Foundation for Justice, The Quorum Foundation, the McKnight Foundation, the Minneapolis Foundation, Springboard for the Arts, The Loft Literary Center, Minnesota Prison Writing Workshop, the Playwright's Center, Vocal Essence, Northern Lights, RECLAIM!, Twin Cities Diversity in Practice, the Minnesota Humanities Center, and Environmental Initiative.
"Anna brings an abundance of experience, health, well-being, and joy to their work," Erin Maye Quade (Board Co-chair, she/her pronouns) said. "As a queer, political organization at a pivotal time, in a crucial role organizing against such vehement, national and well-funded, anti-trans and anti-gay opposition, Anna brings a dedicated and strategic vision to the work."
"Anna is exactly who OutFront Minnesota requires at this moment," Alfred Walking Bull (Board Co-chair, he/him pronouns) said. "As a holistic thinker—dedicated to the realities that our community thrives best when we approach our identities across race, gender and sexuality as assets—Anna brings a dynamic energy to the role and emboldens us to lead with both head and heart."
Min will be guiding the staff and board of OutFront through a transition process, working with community to improve responsiveness to needs and accountability, organizational assessment, fundraising, and helping facilitate the search for the organization's next executive director.
In Anna's own words: "This is a huge opportunity for positive change, so I decided to temporarily close the event photography portion of my business and increase my own financial contribution to OutFront. Will you join me?"