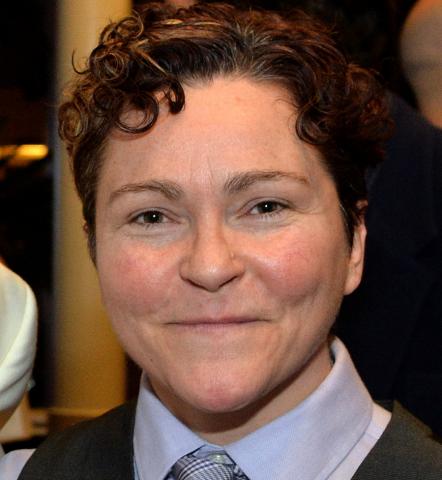 OutFront Minnesota Executive Director Monica Meyer has been engaged in grassroots organizing and policy advocacy on behalf of progressive causes since 1992. She joined the staff of OutFront Minnesota as Public Policy Director in 2001 and became Executive Director in 2010.
Under Monica's leadership, OutFront Minnesota and Project 515 co-founded Minnesotans United for All Families, the electoral campaign which defeated the proposed constitutional amendment to limit the freedom to marry in 2012 and the legislative campaign, which won marriage equality just seven months later.
Monica and Project 515 Executive Director Ann Kaner-Roth received the 2014 Women of the Year Award from the Women's Consortium and the 2013 Community Hero Award from the Family Equality Council. They were also honored by the Equality Federation for their commitment to service and collaboration to win marriage equality in Minnesota. In 2013, OutFront Minnesota also received the Community Organization Award from the Bisexuality Organizing Project.
The Minnesota Safe Schools for All Coalition, a group of more than 140 education, disability, youth, religious, LGBT and social service organizations, was also founded under Monica's leadership. The Coalition was instrumental in getting the Safe & Supportive Minnesota Schools Act passed. This comprehensive bullying prevention bill was signed into law on April 9, 2014.
Monica coordinates political strategy and grassroots organizing; conducts education and training seminars about politics; undertakes coalition-building with allied organizations; conducts research and provides materials for lawmakers, community members, and other interested groups; and travels the state to meet and work with local community activists.
Monica received her master's degree in public policy from the Humphrey Institute at the University of Minnesota, and her undergraduate degree from Hamline University. Monica is currently a board member with TakeAction Minnesota and the Equality Federation.