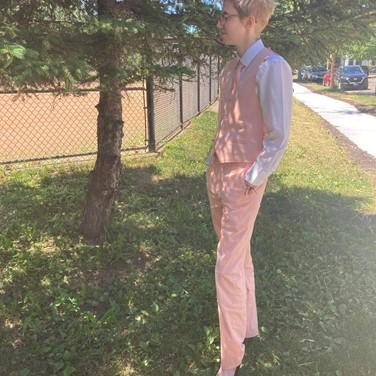 Alex joined OutFront's Policy and Organizing Department in 2022 as the C4 Organizer. Alex is excited to be working to support and engage a base of LGBTQ+ equity supporters in Minnesota, track and coordinate outreach and actions, and lobby at the Capitol for legislation that affects LGBTQ+ Minnesotans.
Alex earned a Bachelor of Arts in Communications from Concordia College in Moorhead, and a Master of Human Rights with a Concentration in Sexuality and Gender Identity from the Humphrey School of Public Affairs. While in school, they had the opportunity to work with OutRight Action International as a summer intern and got to explore NYC for the first time.
In their free time, Alex can be found learning how to play several instruments, dancing (poorly), finding new coffee shops, or playing Animal Crossing.
Fun Facts About Alex:
I'm allergic to pineapple, so I'm biased in the "pineapple on pizza" debate.
I love traveling! My dream destination is Machu Picchu.
My favorite TV show is The Owl House and I relate a lot to late season 1 Amity.