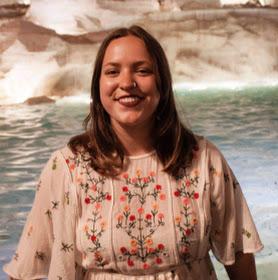 Alyssa Olson joined Outfront Minnesota's Anti-Violence Program in April 2019. She attended the University of Minnesota, with her focus on communication studies with a minor in gender, women, and sexuality studies.
Alyssa is the Legal Advocate for the Anti Violence Program, working with Hennepin County's Domestic Abuse Service Center. She provides advocacy for LGBTQ victim/survivors and assists clients in filing for Order for Protection's, providing trauma informed and victim-centered services. She is also focused on helping Hennepin County provide inclusive and respectful services for all LGBTQ folks.
Alyssa's previous experience consists of working as a sexual health educator for a public health course, which focused on topics like healthy relationships, gender identity, sexuality, and consent. After school, she helped flip the Minnesota House during the 2018 campaign cycle working for the Minnesota DFL as a field organizer. In her off time, she enjoys traveling, exploring state parks, or making pottery.