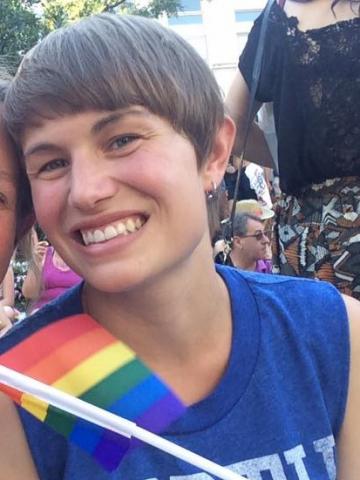 Christine grew up in the Twin Cities before attending college on the east coast. She returned to Minnesota after graduation and worked as an Americorps VISTA member in the Minneapolis Public Schools for 2 years.
Christine spent the next few years working in marketing in the for-profit sector before deciding to return to school to work towards her Master's Degree in Nonprofit Management. She completed her final credits towards her degree with an internship at OutFront Minnesota working in Development and Volunteer Coordination.
Once finished with school, Christine traveled the world with her girlfriend - Beth - for 9 months, spending time in South America, India, Southeast Asia, and Europe.
Upon returning home, they adopted an adorable puppy named Potter. Christine worked writing LGBTQ-specific content for SAVE (Suicide Awareness Voices of Education) and returned to OutFront as a volunteer.
She was hired to coordinate OutFront's Lobby Day for LGBTQ Equity in 2017, then OutFront's Pride festivities, then was hired on as a regular staff member in the fall of 2017 to manage operations and volunteers as well as continue helping with the coordination of OutFront's larger events.
Christine, Beth, Potter, and their newest four-legged family member - Granger - live in St. Paul, Minnesota with many plants (all kept alive by Beth).
Fun Facts about Christine:
The best joke you know: How many tickles does it take to make an octopus laugh? TEN TICKLES
Something you want to learn: I would love to learn to play the drums
Nickname: Some call me Teeny. My nephews call me Aunt Teeny.