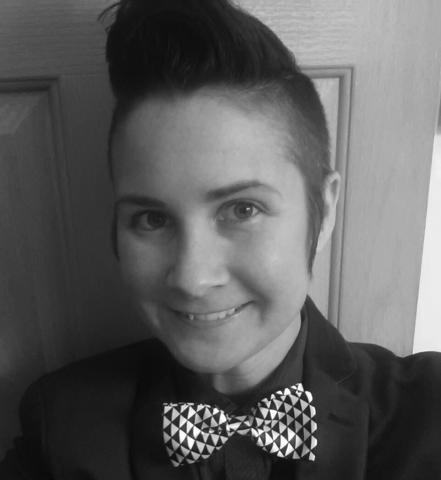 Esmé Rodríguez, MA, PhD (ABD) is an east coast, via Portland, transplant back to Minneapolis, MN. They are a trans-masculine, queer-identified, Latinx artist, educator, and activist. Esmé has a Master's Degree from Boston College and they studied their PhD (ABD) at the University of Minnesota. They are also a self-taught designer. Much of Esmé's professional and creative work exhibits themes of transgender and gender diverse identities, the deconstructions of femininities and masculinities, and the creation of possibility spaces through engaging in work that promotes intersectional justice. Their personal and professional goals are to form coalitions which aid in the breakdown of patriarchy, white supremacy, and colonization; meta-systems which create and maintain oppression, violence, and inequality. Esmé is currently the School Equity Director for OutFront Minnesota. Before taking the position with OutFront, Esmé was the Social Justice & Training Specialist under the Day One Program at Cornerstone Advocacy Service. And they were formerly the Development Manager at TransActive Gender Center in Portland, OR.
Esmé has taught Gender Studies and Latin American Literature at the university level for 12 years and is currently touring national colleges with their "Gender Show and Tell Program," which engages in intersectional discussions surrounding the performance of diverse gender identities and gender expressions from non-binary cultural perspectives.
Esmé is the director and producer of a variety of drag cabaret shows. They have been performing and directing shows for 17 years. Esmé was chosen to perform at the 2016 International Drag Festival in Austin, TX. They also perform in a variety of state wide and national venues. Highlights of their 17 year drag and design career include regular performances in Minneapolis, San Francisco, and Amsterdam, working with Peaches Christ for the Minneapolis Premiere of "All About Evil" in 2010, as well as being chosen to work as an invited artist at The Walker Art Center in 2008 in conjunction with the international FRIDA Kahlo exhibit.
Esmé also enjoys vegetarian sushi, downhill skiing, and NFL football.