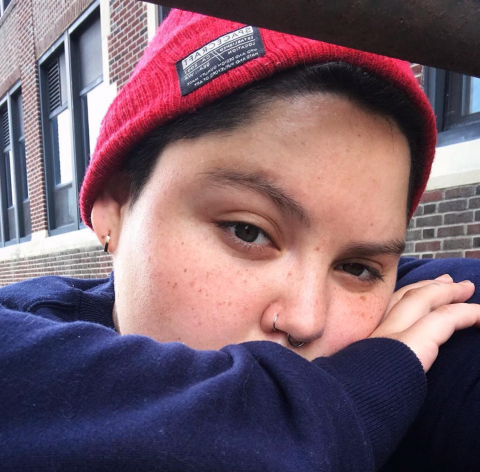 Taylor Romero Hall is the Community Advocacy and Training Specialist in Outfront Minnesota's Anti-Violence Program. Taylor studied literature and gender at St. Catherine's University, where they graduated summa cum laude with a Bachelor of the Arts degree. Currently, they are working on an MFA in Creative Writing for Children at Hamline University in St. Paul.
A long time community advocate and direct care worker, Taylor entered the non-profit sector in early 2017 working in Homeless Prevention and Homeless Services. Their approach to direct service emphasizes a harm reduction style, as well as trauma and person centered care.
Taylor is a regional trainer and developer, and travels throughout the metro offering a variety of diversity and inclusion trainings. They are a proud person of color, and have professional and personal competency in racial and LGBTQ equity. In the office, they are a peer counselor and crisis respondent for community members who have experienced violence or bias. Their interest lies in developing meaningful relationships with peers and clients, especially through mutual respect and radical empathy.
In their off time, Taylor enjoys spending time with their wife, dog, and two cats in their South Minneapolis home, as well as playing boardgames, doing puzzles, and experimenting with new food recipes.