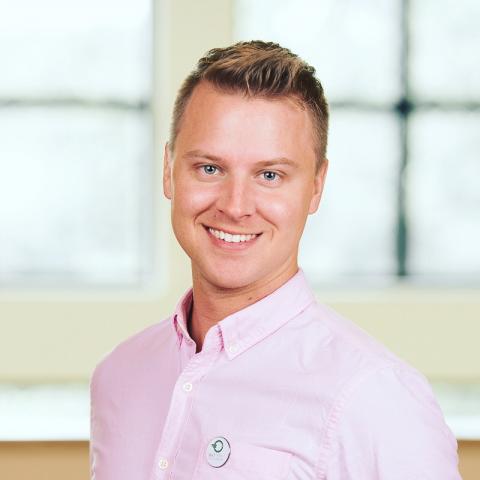 Jacob Thomas joined OutFront in 2016 in our Communications and Development Department. Jacob handles our social media platforms, is our lead graphic designer, and collaborates with our staff to tell the story of OutFront.
He is an Air Force and AF Reserve veteran who served as a network engineer and sexual assault survivor advocate with eight years of service (2008-2016). Throughout his service he advocated for the rights of Lesbian, Gay, Bisexual, Transgender, and Queer (LGBTQ) service members creating Grand Forks AFB's first LGBTQ history booth during the annual Multicultural Fair and cofounding an organization that passed a citywide LGBTQ nondiscrimination ordinance in Grand Forks, North Dakota.
Believing "the personal is political" he has engaged in direct actions and community organizing with Organizing For Action, Can't Convert Love, Gay For Good, Our Minnesota Future, and other anti-racist and progressive, queer-centered groups.
As a theatre artist and activist, Jacob traveled across seven states in the Deep South discussing LGBTQ rights surrounding the Supreme Court ruling on same-sex marriage. His own coming out story as a gay kid who grew up in Georgia has been viewed online more than 137,000 times. He has also created queer centered art and drag performances across the midwest focusing on identity and trauma.
Jacob has an Associates Degree in Computer and Network Sciences and is currently enrolled at the University of Minnesota seeking an Interdepartmental Individualized Major for Theatre for Social Justice and the Politics of Creating Change.