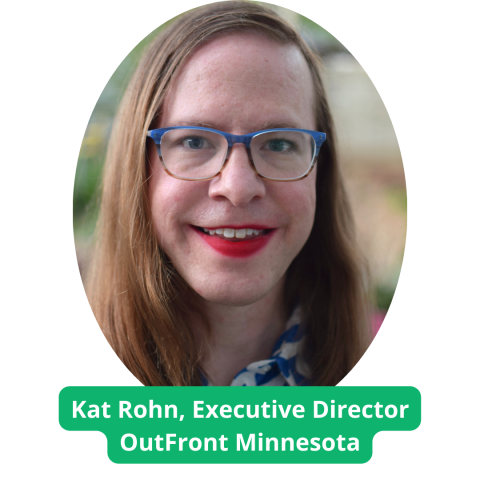 OutFront Minnesota, the state's leading advocacy organization for LQBTQ+ Minnesotans, is thrilled to announce Kat Rohn as the new Executive Director starting Wednesday, May 18th, 2022.
Rohn comes to Outfront Minnesota after more than a decade of development experience in higher education, serving most recently as Senior Development Officer with the University of Minnesota. Rohn also spent that decade fighting for queer people in a number of arenas.
OutFront has played a pivotal role in so many of the transformative moments for the LGBTQ+ community in the state of Minnesota and has always been an important resource and rallying point for our community. Being able to infuse my own personal passion for LGBTQ+ advocacy into my expertise in supporting mission-driven organizations feels like a great fit, I am truly honored to have the opportunity to lead this organization into its next chapter.
Rohn
Rohn has fought for the removal of gender-affirming care exclusions in employer healthcare plans, engaged with local school board members to support trans inclusive policies, served as a peer training facilitator for the University of Minnesota's gender equity and access policy, and spent time engaging with legislators about state policies that affect our community.
The needs are urgent and we must prioritize the safety and well-being of everyone in our community. Our work for LGBTQ+ equality must be in concert with efforts on racial justice, public safety, environmental justice, reproductive rights, and housing justice. That fusion has the power to transform our world for the better.
Rohn
Rohn will be taking on this role following nine months of leadership provided by Interim Executive Director Patrick Troska, supported by Mighty Consulting. OutFront wishes to express our deepest gratitude for Troska's steadfast guidance during a critical time for the organization.
---
OutFront's Communications Manager, Ryan Howe, met with Rohn for a quick Q&A about their work and what to expect when they start.
What attracted you to the role of Executive Director at OutFront?
This is a time of tremendous opportunity for OutFront to build on its legacy and meet a
new moment in organizing and advocacy that will advance the cause of LGBTQ+ equity. I look forward to working with our community to create a shared vision and ensure lesbian, gay, bisexual, transgender, and queer people can thrive here in Minnesota.
How do you align with OutFront's mission?
OutFront's mission is a deeply personal one for me as a trans and queer person. I can point to many examples of how OutFront and the broader movement for LGBTQ+ equity have shaped my experience and made it possible to live a better life. Our policy work, education and training efforts, and the anti-violence work being done at OutFront each compliment the organization's broader mission and I am energized by the opportunities we have to build on our great programs and continue to advance the cause of LGBTQ+ equity.
Where do you see the future of the LGBTQ+ equity movement heading?
There is always more work to be done. First, I think it's important that we reflect on areas for growth within our own movement. It's crucial that we ground all we do in a strong commitment to intersectionality, that we recognize and reckon with the stark racial inequities here in the state of Minnesota and the ways in which our own movement has not always been fully inclusive. I hope I can help to bring more voices and partners to the table to help better inform and advance the work ahead.
In addition, while I am an unflagging optimist, one doesn't have to look far to see that both culturally and politically LGBTQ+ issues continue to face challenges around our state and country. Recent efforts to challenge school curriculum and trainings, restrict athletic participation and healthcare for transgender youth, and individual acts of discrimination and harm make the stark case for why our work is so crucial now; and why we need our allies to stand alongside us as we continue to advocate for our community.
I firmly believe that decades of work by our movement have fundamentally changed the social and legal landscape around LGBTQ+ rights, but our continued success requires continued engagement. Let's get to work!
What would a successful first year in the position look like?
I hope to spend a great deal of time in my first year listening. Sitting down with LGBTQ+ folks and our allies across the state to have meaningful conversations about our needs, our opportunities, our aspirations, and the work ahead. I am excited to take those conversations and in partnership with our board and staff craft a strategic vision for OutFront that will help to energize the organization and guide our efforts as we move forward.
Is there anything else you want us to know about you?
I live in Saint Paul with my partner, our two kids, and two cats. In addition to LGBTQ+ equity I am passionate about good ice cream, listening to records, dabbling in photography, and finding time to get out into our natural landscape. Looking forward to meeting many of you in the year ahead!

If you have questions about this announcement or would like to contact Kat, please reach out to communications@outfront.org.