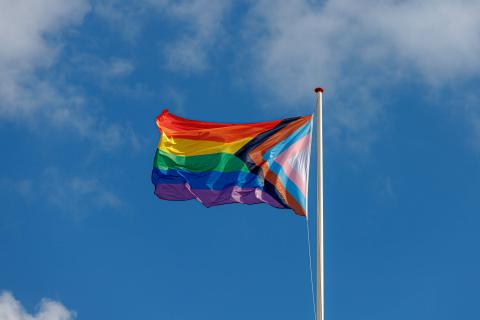 In 2022 legislative attacks on queer and trans rights escalated to unprecedented levels. This year's legislative season saw hundreds of bills introduced across the nation, targeting LGBTQ+ rights, particularly the trans community. These bills targeted transgender inclusion in athletics, gender-affirming care, school curriculum and policies, and restroom and locker-room access. Minnesota saw similar bills introduced but — thankfully — these harmful bills never advanced out of committee.
These bills are part of a coordinated and growing effort to push back on the many gains made by the LGBTQ+ community over the past decades. From the prominent, sweeping attacks in Florida and Texas to a push for discriminatory legislation by our neighbors in South Dakota and Iowa, queer and trans folks are being targeted through fearmongering. Unfortunately, those efforts continue to gain momentum.
Recently a new bill was introduced at the federal level - H.R. 8731 - seeking to charge those providing gender-affirming care with a felony. It is one of a slate of federal bills, including an effort to restrict trans participation in athletics that have garnered significant support this year. And while these bills have no current path forward to becoming law in the current Congress; they provide a clear roadmap of what may be coming.
Make no mistake — these legislative proposals are part of a bigger effort to push queer and trans people out of public life and back into the closet.
Regardless of any one piece of individual legislation passing, the continuing public discourse that treats queer and trans lives as a subject for open "debate" has consequences for LGBTQ+ communities, particularly our youth.
We must stay organized and vocal.
In March, OutFront Minnesota and our coalition partners held a rally at the state capitol in response to an unprecedented wave of attacks on transgender youth and we remain unwavering in our commitment to protect and advance LGBTQ+ equity in this state.
We call on our elected leaders to continue to be outspoken in their support for the LGBTQ+ Minnesotans and we look forward to working with them to advance necessary legislation and policy adressing the needs of our community. That includes continuing efforts at both state and local levels to ban conversion therapy, support LGBTQ+ families and students, to expand access and support for healthcare including gender-affirming care, PEP/PrEP access, mental healthcare, and more. There is much to be done.
Our communities have a long history of getting organized and changing these harmful narratives and we can do the same here. As we approach the 2022 midterm election we all must continue to do our part: register to vote, make a voting plan, and stay connected with OutFront Minnesota to stay informed on our efforts to advocate for LGBTQ+ equity here in Minnesota and beyond.
Let's get to work!
In solidarity.
Kat Rohn