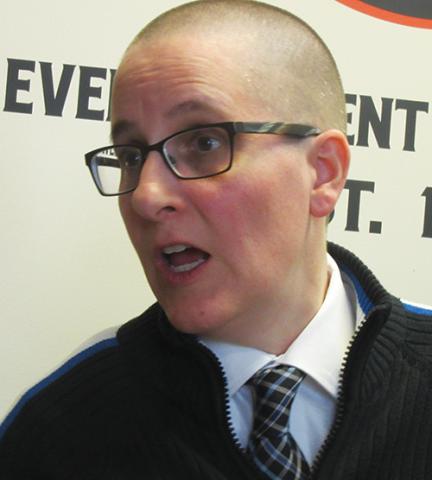 by Deb Gau
MARSHALL — For the third meeting in a row, members of the Marshall School Board heard comments from people speaking out about a rainbow flag hung in the cafeteria at Marshall Middle School. While the school board has yet to take any action regarding the flag, it was clear that the situation has drawn wider attention across Minnesota and beyond.
"People from all across the nation are watching you. But what matters the most is that your students are watching you, too," said Kelly Holstine, director of educational equity for OutFront Minnesota. "Will you teach them that they should treat each other with respect? Will you model for them that they matter? Will you stand up for them and will you help keep them safe from harm?"
Holstine presented school board members with a petition in support of the rainbow flag.
School board members also met in closed session at Monday's meeting, to discuss "threatened or pending litigation" about the flag with an attorney. No further action was taken regarding the flag, and Marshall Superintendent Scott Monson said it's still unknown whether the board will take any action.
The rainbow flag, a symbol of lesbian, gay, bisexual and transgender pride, is part of a display of flags put up at MMS this winter. The display also includes flags of different countries — including the U.S. — that represent students' backgrounds.
For the past month, the display and especially the LGBT flag have been the focus of controversy in the school district. Adults and students from Marshall have both spoken up in support of the flag, and have called for it to be taken down. At the school board's Feb. 18 meeting, Minneapolis attorney Bill Mohrman said he represented a group of people who could potentially sue the school district if it did not adopt a "viewpoint neutral"policy regarding what kinds of displays are allowed in the school.
More people got up to speak about the rainbow flag during a public comment period on Monday, but this time everyone who spoke was in support of the display.
Marshall teacher and parent Kathleen Deutz said it was time for the school district to show LGBT students "That we accept them for who they are."
"If we as leaders and adults cannot show dignity and respect of all students, who will?" Deutz said. "This should not be a religious issue, as we are in a public school setting."
Holstine said showing LGBT students that they are safe and supported in school is something that ties into broader needs for equity in Minnesota education.
"Educational equity is finding out what every student needs to be successful — academically, social-emotionally, and everything in between," Holstine said. She said she had learned from parents in the Marshall school district that not all students were getting those needs met. Some students have faced physical violence or harassment for being part of the LGBT community, Holstine said.
Holstine said threats of a lawsuit against the school district if it didn't take down the flag don't have a lot of legal support. On the other hand, she said, taking down the flag could possibly result in a discrimination lawsuit against the school district.
"The U.S. Department of Education Office of Civil Rights, the Minnesota Human Rights Act, and the Minnesota Safe and Supportive Schools Act all support LGBTQ plus students to have safe educational environments that are free of discrimination and harassment," Holstine told the school board. "This flag is showing tangible support toward those humans, and there is no law that supports the claim that people's First Amendment Rights are being harmed by flying this flag."
After the public forum period, Holstine told reporters she had become aware of the situation with the rainbow flag in Marshall about two weeks ago. She reached out to community members and organizations like the area chapter of PFLAG.
Holstine said the petition she brought to the school board had 364 signatures in support of the rainbow flag staying where it is.
Holstine and Marshall parent Emily Baumgarn also said the American Civil Liberties Union is aware of the flag issue — but not for any threatened legal action, Baumgarn said. Baumgarn said she had contacted the ACLU to ask questions about the situation.
Baumgarn was one of the community members who spoke in support of the flag display during the school board meeting.
"This may seem like just a flag, but to the children who may not feel welcome, it is a symbol that they are loved, valued and protected," she said.
At the end of Monday's meeting, school board members went into closed session to talk with attorney Kristi Hastings, of Fergus Falls-based firm Pemberton Law. Under Minnesota law, the school board can close a meeting to discuss threatened or pending litigation. Before the meeting was closed, Hastings said the discussion was related to the flag display. However, after the closed session was over Hastings said she couldn't comment on whether there was any pending litigation against the school district.
Superintendent Monson said he didn't know if the school board would take any future action on the rainbow flag.
Read this article on the Marshall Independent's website here.