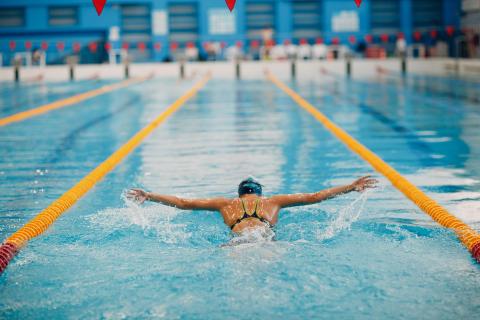 In June, the Fédération internationale de natation (FINA) - the international body governing swimming and other aquatic sports - released a set of new guidelines on eligibility for transgender athletes.
These new requirements effectively ban trans women and girls participating in competitive swimming events, most notably requiring that those athletes have had puberty suppression starting at age 12 to be eligible for competition.
FINA's new requirements come on the heels of unnecessary restrictions advanced by USA Swimming in February of this year. And at a time when there is an unprecedented nationwide effort to limit trans athletic participation - with proposed bills introduced in the majority of states including Minnesota. This year alone trans athletic bans became law in Arizona, Indiana, Iowa, Kentucky, Louisiana, Oklahoma, South Carolina, and Utah bringing a total of 18 states that have passed these discriminatory bills.
OutFront Minnesota believes that transgender athletes deserve to play, compete, and win in the sports they love.
We have authored a letter to FINA; in partnership with our peer organizations around the country urging them to remove these discriminatory and unnecessary restrictions on trans athletes. And we will continue to advocate on this important topic.
---
July, 2022
To the leadership of the Fédération internationale de natation (FINA),
We reach out to you as leaders of LGBTQ+ advocacy organizations from across the United States.
We recently learned that FINA had voted on a new policy addressing the inclusion of transgender athletes participating in swimming and other water sports at a competitive level.
To our dismay, this policy, adopted June 19, 2022, amounts to a near total ban on participation for all transgender women athletes from competition in their gender category.
At the heart of our concerns is the medical requirements portion of the policy addressing the eligibility standards for transgender women athletes. Most specifically, the allowance for participation only if "they have not experienced any part of male puberty beyond Tanner Stage 2 or before age 12, whichever is later." This standard makes it clear that unless athletes are fully able to articulate their gender identity at a young age, have full support of their parents/guardians and affirming healthcare providers, and are able (and want) to access pubertal suppression before any signs of significant development that they simply cannot compete in their gender category. In practice, that is effectively a total ban on the full participation of transgender women in water sports.
In a recent cross-sectional study of transgender adults in the United States of "those who wanted pubertal suppression only…2.5% had received this treatment;" and those accessibility of care challenges are only growing. Over the past two years, legislators in multiple states introduced bills seeking to outright ban trans affirming healthcare - including pubertal suppression - for those under 18. And even for those who can and do wish to seek treatment; long waitlists, challenges around insurance coverage, and access to care providers can create significant barriers. And those challenges are only magnified for members of multiply marginalized communities.
To advance this policy at a time when LGBTQ+ rights, and transgender rights specifically, are facing unprecedented challenges around the globe is a missed opportunity to uphold the values of inclusion, fairness, and equity, which lie at the heart of sports.
We know that elite athletic competition presents unique challenges when determining appropriate eligibility criteria. We also know that gender testing and standards have a troubling racialized history, and that all too often flimsy "scientific" pretexts are used as tools to conduct invasive and humiliating investigations into individuals whose gender identities and expressions do not conform to stereotypical norms. We are concerned that the policies brought forward by FINA in this document represent another troubling chapter in this history. The marked departure from previous standards of eligibility established by the IOC, USA Swimming, and other organizations - including both the aforementioned pubertal suppression standard as well as FINA's new significantly more restrictive testosterone level requirements - are presented with no published evidence to support their necessity or impact. We call on FINA to present this evidence transparently and to fully address the basis for these unprecedented restrictions.
We also challenge the notion that open/mixed gender competitions present an equal opportunity for trans athletes and individuals with 46 XY differences of sex development. Here in the United States particularly, with our troubling history of "separate but equal" policies we are keenly aware of what happens when people are denied full and free access to spaces where they belong.
Whether intended or not, FINAs new policies send a simple message to trans athletes: You are not welcome in the pool.
Trans people deserve the opportunity to participate and to compete alongside their peers and to see fellow trans athletes competing and yes - winning - at all levels of play. Trans youth, in particular, see marked mental health benefits when they are supported and given the opportunities to be active participants in the sports they love. We believe fundamentally that policies addressing transgender participation in athletics should start from a place of inclusion; seeking to create space for greater involvement, rather than restrict it.
As leaders of LGBTQ+ organizations we call on FINA and its leadership to revisit these new policies and seek a different path forward.
Sincerely,
OutFront Minnesota
Gender Justice
Equality New Mexico
EqualityMaine
ENC - Equality NC
OutNebraska
One Colorado
Georgia Equality
Transgender Education Network of Texas (TENT)
Tennessee Equality Project
TransOhio
Freedom Oklahoma
Montana Human Rights Network
Equality California
Equality South Dakota
Equality Illinois
Massachusetts Transgender Political Coalition
Fair Wisconsin
PROMO
Fairness Campaign
Garden State Equality
One Iowa
Equality Florida
MassEquality
Athlete Ally