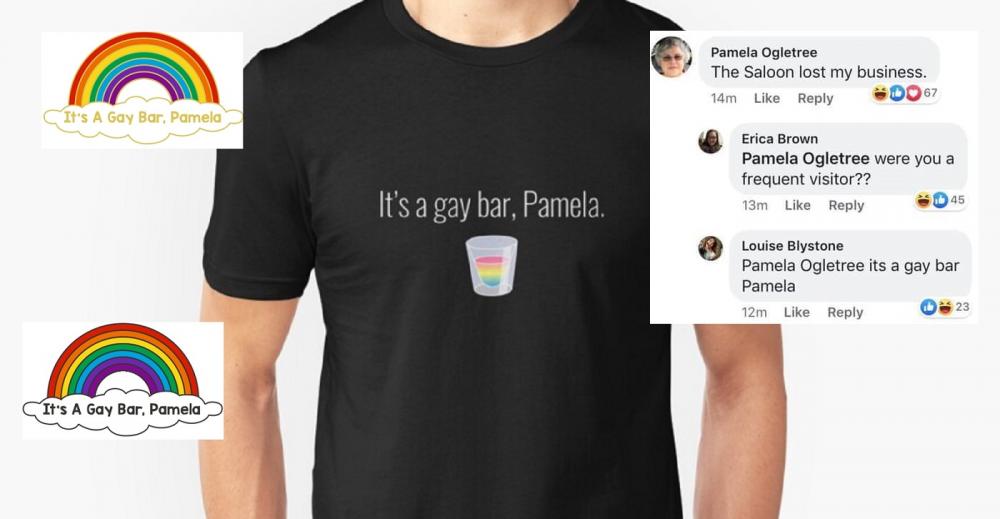 There's a new hilarious gay meme in town after a Trump supporter got very offended and threatened to boycott a gay bar.
Gay nightclub Saloon, in Minneapolis, Minnesota, had attracted flack from conservatives after it began flying a "Trump baby" balloon from its rooftop ahead of a Trump rally in the city.
News coverage of the protest promoted anger from dozens of middle-aged straight Trump supporters, who promptly flocked to Facebook to declare their intention to boycott the business, despite, in all likelihood, any of them having ever stepped foot in Saloon before.
'It's a gay bar Pamela' is the new meme we're living for.
Elderly heterosexual Trump supporter Pamela Ogletree was among those who declared: "The Saloon lost my business."
One respondent questioned whether Ogletree was a "frequent visitor" to the bar, while another delivered the now immortal response: "It's a gay bar, Pamela."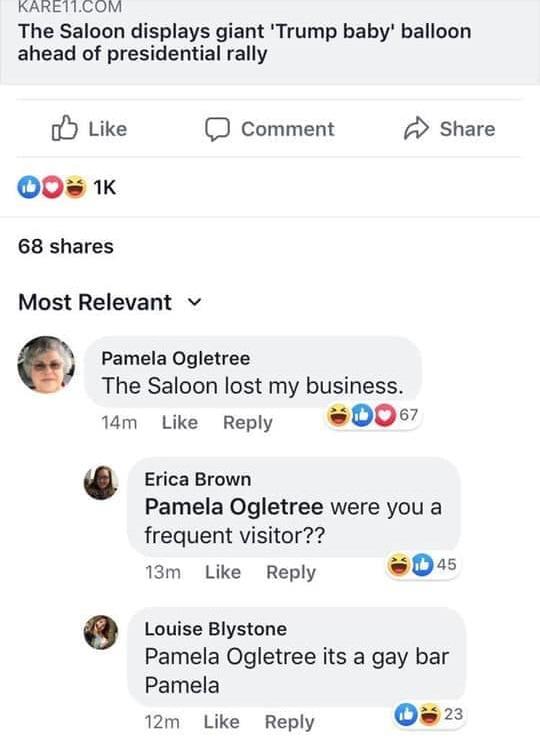 The phrase has rapidly become the Minneapolis gay community's new favourite meme.
One fan joked: "We're all at the Saloon right now wondering if Pam's gonna make it tonight."
Another added: "I'd like 'its a gay bar Pamela' to become a common internet response when someone acts like an idiot.
Merchandise raises money for good causes.
The phrase has also prompted a range of merchandise in support of LGBT+ causes.
Minnesota Pins has launched a collection of "It's a gay bar, Pamela" pins, with 50 per cent of the proceeds going to LGBT+ group Out Front Minnesota.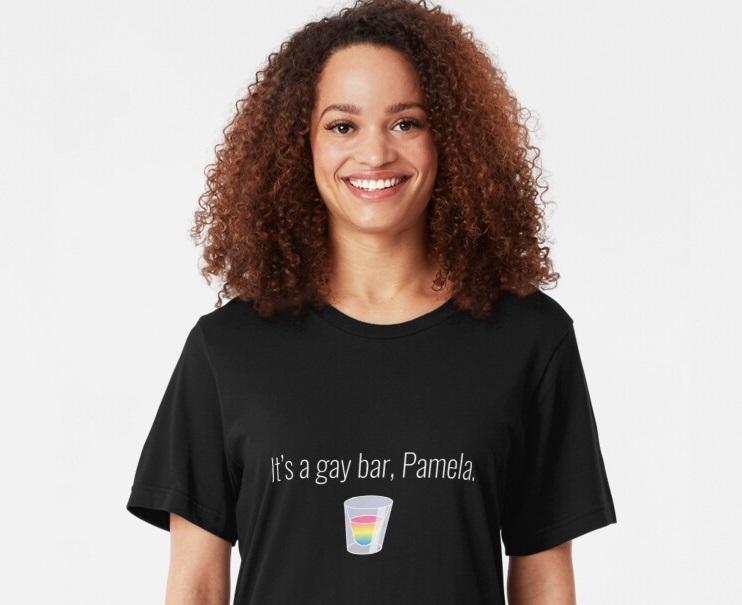 Meanwhile, someone has created a T-shirt also bearing the phrase.
The bar has also enjoyed a new wave of support.
One response said: "Thank you Saloon for standing up for what's RIGHT and afforded us by our constitutional rights. LOOOOOOVE YOU!
Another added: " I am so proud of the Saloon! Thank you for using your platform to advance OUR rights. Strong drinks, strong attitude, strong support. ❤️🧡💛💚💙💜"
- Nick Duffy
Source: https://www.pinknews.co.uk/2019/10/23/its-a-gay-bar-pamela-hilarious-meme-outraged-trump-supporter/