Voter Registration & Education
One of our most important activities at OutFront Minnesota is fostering an informed voting community. Through conducting voter registration & voter pledge campaigns, surveying candidates for public office, pre-election phone-banking, holding voter rallies, and publishing voter guides, OutFront Minnesota has encouraged high levels of voter turn out amongst the LGBTQ and allied communities in recent elections.
Lobbying
OutFront Minnesota's lobbyists work with legislators to address issues of inequality in state law concerning LGBTQ Minnesotans and to make certain bills under consideration are not harmful to the community. Coordinating efforts with other lobbyists working at the Capitol, OutFront Minnesota ensures that LGBTQ Minnesotans have a voice in the Legislature's deliberations.
One important way in which LGBTQ Minnesotans have a voice at the Legislature is through our annual Lobby Day for LGBTQ Equity, at which constituents from across Minnesota come to the Capitol to meet with their representatives. Through face-to-face, grassroots lobbying, LGBTQ and other fair-minded Minnesotans are able to participate directly in the legislative process.
Research & Writing
Providing accurate information to legislators and the general public is vital in a climate of myths and deliberate misinformation. OutFront Minnesota provides clear and factual information to legislators regarding LGBTQ Minnesotans and the importance of the 1993 Human Rights Amendment in protecting the human rights of ALL Minnesotans.
As the leading LGBTQ organizing and lobbying organization in Minnesota, we help write and develop policy — in coordination with lawmakers — based on the experiences and concerns of our members. We know that direct, grassroots lobbying has the power to create a better and more inclusive Minnesota.
Our goal is lived equity for ALL Minnesotans.
Teamwork Is The Key!
OutFront Minnesota is a team of dedicated professionals…and YOU are the most important member of our team! It is your input that gets the legislators' attention, and, without you, all our efforts will be in vain. Securing human rights for lesbian, gay, bisexual, transgender, and queer Minnesotans requires all of us working together.
E-news and Action Alerts
Stay informed with OutFront Minnesota's E-news and Action Alerts! Members receive up-to-date information on OutFront Minnesota events and news important to the LGBTQ community and it's a great way to get involved and stay involved with OutFront Minnesota!
For more information, contact Oluchi Omeoga at Oluchi@outfront.org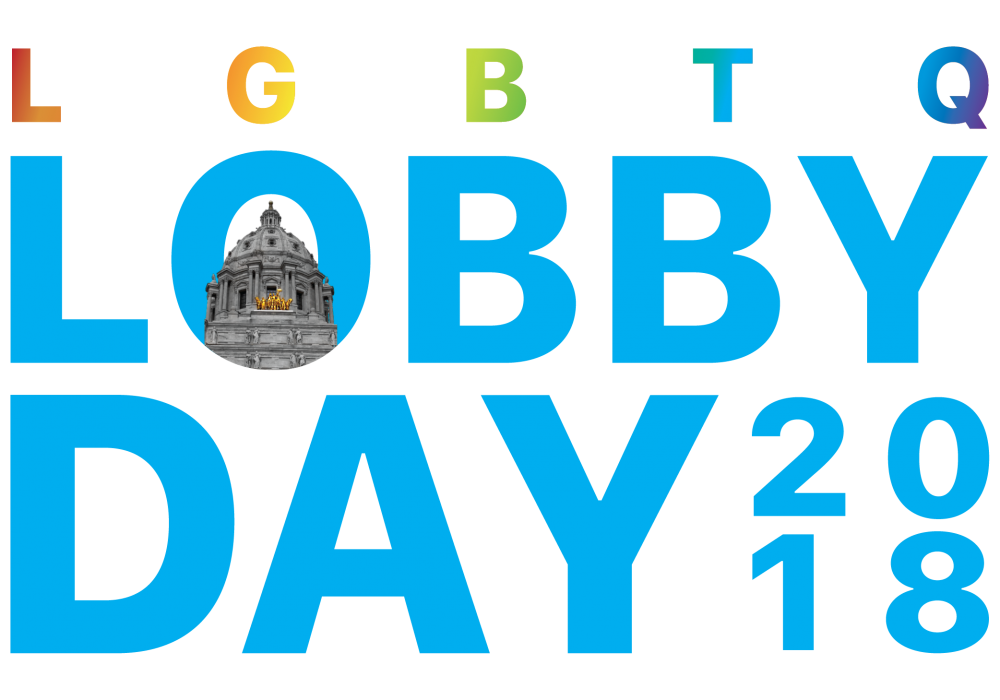 APRIL 2019
This is the day to show up and show out for LGBTQ equity! Join hundreds of LGBTQ people and allies as we fight for our rights. We can't sit by and let the victories we've achieved in the past three decades be stripped away from us. We must stop the attacks and attempts to pass discriminatory legislation against LGBTQ people. We do this by organizing and showing our force at the Minnesota State Capitol.
The day starts with our Lobby Day Institute Workshops about LGBTQ advocacy and activism led by some of the fabulous people on the frontlines of our work.
Then, gather on the steps of the Capitol to hear some of the leaders in our movement and our legislature speak to how far we have come and where we are headed. If the weather is unfavorable we will move the rally into the Capitol Rotunda, so feel confident coming rain or shine.
Stick around to attend another one or two Lobby Day Institute Workshops or speak DIRECTLY to your legislator about the issues important to you!
If you can't join us for the whole day, that is just fine. Just make sure you don't miss the rally! Please join us and help spread the word.
Legislation We Focused on in 2018
Support a Ban on Conversion Therapy for Youth and Vulnerable Adults
Support the LGBTQ Protection Bill which Stops Defendants from Using the Victim's Sexual Orientation or Identity as a Allowable Criminal Defenses for the Use of Force
Support a Bill Prohibiting Discrimination of Trans Individuals by Health Plan Companies
Support a Bill Calling for the Creation of an LGBTQ Council within the Government
Support the Inclusion of Affirmative Consent Standards in Campus Sexual Assault Policies
Support a Bill Protecting the Right to Protest
Oppose a Bill Calling for Surrogacy Restrictions
Oppose an Anti-Protest Bill
Schedule for the 2018 Lobby Day for LGBTQ Equity
9am | Registration
9:30am | Welcome and Open
10am | First Workshops/Lobby Visits
10:50am | Break
11am | RALLY and ACTION
1pm | Lunch/Lobby Visits
1:45pm | Second Workshops/Lobby Visits
2:35pm | Break
2:50pm | Third Workshops/Lobby Visits
3:40pm | Closing Ceremony
ASL interpreters will be interpreting for the rally; please let us know if you would like us to set up an ASL interpreter for you for additional activities throughout the day.
Childcare will also be onsite and available during workshops and legislative visits.
Conversion Therapy Is Dangerous
"Conversion therapy," often referred to as "reparative therapy," "ex-gay therapy," or "sexual orientation change efforts," includes a range of dangerous and discredited practices aimed at changing a person's sexual orientation, or efforts to change a person's gender identity or expression. These harmful practices are based on the false claim that being Lesbian, Gay, Bisexual, Transgender, or Queer (LGBTQ) is a mental illness that should be cured. Unfortunately, young LGBTQ people may be coerced and subject to these harmful practices, which put youth at risk for serious harms such as depression, substance abuse, and suicide.
We have the chance to end it.
Conversion Therapy Is Not an Accepted Medical Practice
Conversion therapy has been denounced by every mainstream medical and mental health association, including the American Medical Association, American Psychological Association, and the American Academy of Pediatrics.
American Psychological Association
"[The APA] advises parents, guardians, young people, and their families to avoid sexual orientation change efforts that portray homosexuality as a mental illness or developmental disorder..."
American Medical Association
"Our AMA...opposes, the use of 'reparative' or 'conversion' therapy that is based upon the assumption that homosexuality per se is a mental disorder or based upon the a priori assumption that the patient should change his/her homosexual orientation."
American Academy of Pediatrics
"Confusion about sexual orientation is not unusual during adolescence. Counseling may be helpful for young people who are uncertain about their sexual orientation or for those who are uncertain about how to express their sexuality and might profit from an attempt at clarification through a counseling or psychotherapeutic initiative. Therapy directed specifically at changing sexual orientation is contraindicated, since it can provoke guilt and anxiety while having little or no potential for achieving changes in orientation."
The Protection From Conversion Therapy Act Will Protect LGBTQ Youth from Harmful Conversion Therapy
The Youth Conversion Therapy Ban will protect LGBTQ youth from dangerous and discredited practices aimed at changing one's sexual orientation, including efforts to change gender identity or expression. The bill will prevent licensed mental health care providers in Minnesota from practicing conversion therapy on youth under the age of 18 and vulnerable adults. This legislation will:
Protect youth and vulnerable adults from being coerced into treatments which are ineffective and which lead to depression, decreased self-esteem, substance abuse, self- harm and suicide.
Prevent parents from being taken advantage of by deceptive agents of the conversion therapy industry.
Help ensure that LGBTQ young people receive mental health care that is ethical, affirming, and culturally competent.
Does NOT affect religious or non-licensed counseling.
While we cannot know the precise number of youth who have been subjected to these practices in Minnesota, we know of multiple cases of LGBTQ youth experiencing attempts to change their identity within our state.
As of March 1, 2018, 9 states and the District of Columbia have banned this harmful practice. Minnesota has the chance to continue leading on LGBTQ rights by passing SF 1974 and HF 2281.
Rally to End Conversion Therapy
On Thursday, March 15, 2018, as part of our annual Youth Summit, hundreds of students and educators gathered on the Capitol steps to hold a press conference on ending conversion therapy in Minnesota.