Voter Registration & Education
One of our most important activities at OutFront Minnesota is fostering an informed voting community. Through conducting voter registration & voter pledge campaigns, surveying candidates for public office, pre-election phone-banking, holding voter rallies, and publishing voter guides, OutFront Minnesota has encouraged high levels of voter turn out amongst the LGBTQ and allied communities in recent elections.
Lobbying
OutFront Minnesota's lobbyists work with legislators to address issues of inequality in state law concerning LGBTQ Minnesotans and to make certain bills under consideration are not harmful to the community. Coordinating efforts with other lobbyists working at the Capitol, OutFront Minnesota ensures that LGBTQ Minnesotans have a voice in the Legislature's deliberations.
One important way in which LGBTQ Minnesotans have a voice at the Legislature is through our annual Lobby Day for LGBTQ Equity, at which constituents from across Minnesota come to the Capitol to meet with their representatives. Through face-to-face, grassroots lobbying, LGBTQ and other fair-minded Minnesotans are able to participate directly in the legislative process.
Research & Writing
Providing accurate information to legislators and the general public is vital in a climate of myths and deliberate misinformation. OutFront Minnesota provides clear and factual information to legislators regarding LGBTQ Minnesotans and the importance of the 1993 Human Rights Amendment in protecting the human rights of ALL Minnesotans.
As the leading LGBTQ organizing and lobbying organization in Minnesota, we help write and develop policy — in coordination with lawmakers — based on the experiences and concerns of our members. We know that direct, grassroots lobbying has the power to create a better and more inclusive Minnesota.
Our goal is lived equity for ALL Minnesotans.
Teamwork Is The Key!
OutFront Minnesota is a team of dedicated professionals…and YOU are the most important member of our team! It is your input that gets the legislators' attention, and, without you, all our efforts will be in vain. Securing human rights for lesbian, gay, bisexual, transgender, and queer Minnesotans requires all of us working together.
E-news and Action Alerts
Stay informed with OutFront Minnesota's E-news and Action Alerts! Members receive up-to-date information on OutFront Minnesota events and news important to the LGBTQ community and it's a great way to get involved and stay involved with OutFront Minnesota!
For more information, contact Oluchi Omeoga at Oluchi@outfront.org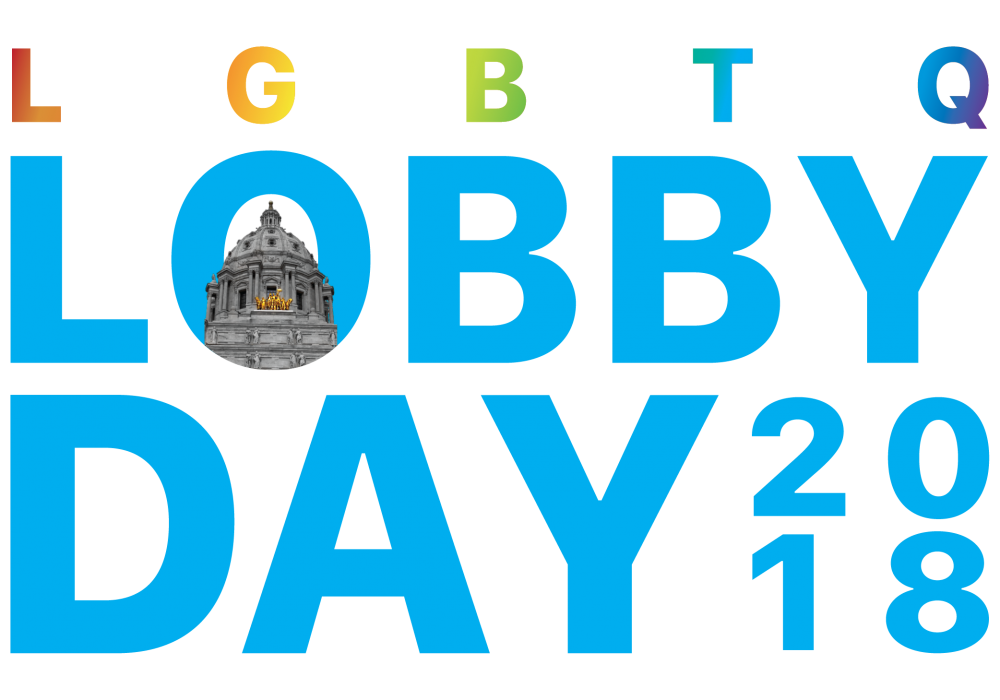 This is the day to show up and show out for LGBTQ equity! We can't sit by and let the victories we've achieved in the past three decades be stripped away from us. We must stop the attacks and attempts to pass discriminatory legislation against LGBTQ people. We do this by organizing and showing our force at the Minnesota State Capitol.
Join hundreds of LGBTQ people and allies as we fight for our rights. The day starts with our Lobby Day Institute Workshops about LGBTQ advocacy and activism led by some of the fabulous people on the frontlines of our work.
Then, gather inside the Capitol Rotunda at 11am to hear some of the leaders in our movement and our legislature speak to how far we have come and where we are headed. Stick around to attend another one of our Lobby Day Institute Workshops or speak DIRECTLY to your legislator about the issues important to you!
If you can't join us for the whole day, that is just fine. Just make sure you don't miss the rally!
This year we will be focusing our efforts on stopping attempts to repeal the Minnesota Human Rights Amendment passed in 1993 which provides protections for LGBTQ Minnesotans in regards to education, employment, housing, and public accommodations; supporting access to critical health care for trans people; banning conversion therapy and more. This is our day to demonstrate statewide support for LGBTQ equity! Please join us and help spread the word.
Lobby Day for LGBTQ Equity Schedule
8:30am: Registration Opens
9:15am - 10:30am: Lobby Day Institute Workshop #1
11am - 12pm: Rally for LGBTQ Justice and Equity
12:30pm - 1:45pm: Lobby Day Institute Workshop #2
Throughout the Day: Appointments with Legislators will be scheduled around you and your Representatives' schedules throughout the day from 8am to 5pm
What is a Caucus?
Precinct caucuses are the first step in the party endorsement process
and party platform/agenda formation. The caucuses provide an opportunity for supporters of LGBTQ equity to help shape the priorities and agenda of the parties by passing issue resolutions, becoming a party delegate, and endorsing candidates.
For many Minnesotans who care about LGBTQ equity, winning the freedom to marry was not the end of the story. You can help them turn the page and continue the work. Remember, you don't have to be an expert, and you don't need to change anyone's mind. Your job is to start the conversation. You're a guide. You don't need to reach the destination right away — just start down the path together.
When and Where
Caucuses are Tuesday February 6, 2018 at 7pm. To find the location of your precinct caucus:
On The Day
Arrive early to get a good seat and parking spot 6:30 or 6:45pm should be fine.
Build support for LGBTQ equity! Work the room and spread the word about the resolution you brought. A sample conversation is provided.
When the floor opens to pass resolutions, state your resolutions and get them passed onto the party platform. Sample resolutions are provided.
Become a delegate to the Senate District Conventions (in metro areas) or County Convention (in Greater Minnesota).
Comprehensive Sexual Health Education
RESOLVED: youth in Minnesota need access to information that helps them live healthy lives. ________ supports sexuality health education offered by public schools that is medically accurate, age appropriate and inclusive of LGBTQ concerns.
Ending Conversion Therapy
RESOLVED: ________ supports a ban on conversion therapy, also known as sexual orientation/gender identity change efforts, or reparative therapy, as a therapeutic practice. Conversion therapy is targeted at lesbian, gay, bisexual, transgender and queer people in Minnesota. It has been discredited or highly criticized as harmful by all credible, major American medical, psychiatric, psychological, and professional counseling organizations.
Download the Packet and Attend!
If you want to help advance equity join us at the caucuses! You can download our Caucus Packet with the resolutions and information about your precinct location below.