Lobbying
OutFront Minnesota's lobbyists work with legislators to address issues of inequality in state law concerning LGBTQ Minnesotans and to make certain bills under consideration are not harmful to the community. Coordinating efforts with other lobbyists working at the Capitol, OutFront Minnesota ensures that LGBTQ Minnesotans have a voice in the Legislature's deliberations.
As the leading LGBTQ organizing and lobbying organization in Minnesota, we help write and develop policy — in coordination with lawmakers — based on the experiences and concerns of our members. We know that direct, grassroots lobbying has the power to create a better and more inclusive Minnesota.
One important way in which LGBTQ Minnesotans have a voice at the Legislature is through our annual Lobby Day for LGBTQ Equity, at which constituents from across Minnesota come to the Capitol to meet with their representatives. Through face-to-face, grassroots lobbying, LGBTQ and other fair-minded Minnesotans are able to participate directly in the legislative process.
Organizing
One of our most important activities at OutFront Minnesota is fostering an informed voting community. Through conducting voter registration & voter pledge campaigns, surveying candidates for public office, pre-election phone-banking, holding voter rallies, and publishing voter guides, OutFront Minnesota has encouraged high levels of voter turn out amongst the LGBTQ and allied communities in recent elections.
OutFront's Religious Organizer works with faith organizations and congregations around the state to bring them along in the advocacy and inclusion of queer people in all faith practices. Clergy and people of faith are uniquely positioned to change the hearts and minds of decision-makers and citizen across our state and beyond. This happens through showing up at pivotal moments, speaking truth to power, and sharing our stories.
Teamwork Is The Key!
OutFront Minnesota is a team of dedicated professionals…and YOU are the most important member of our team! It is your input that gets the legislators' attention, and, without you, all our efforts will be in vain. Securing human rights for lesbian, gay, bisexual, transgender, and queer Minnesotans requires all of us working together.
E-news and Action Alerts
Stay informed with OutFront Minnesota's E-news and Action Alerts! Members receive up-to-date information on OutFront Minnesota events and news important to the LGBTQ community and it's a great way to get involved and stay involved with OutFront Minnesota!
Conversion Therapy Is Dangerous
"Conversion therapy," often referred to as "reparative therapy," "ex-gay therapy," or "sexual orientation change efforts," includes a range of dangerous and discredited practices aimed at changing a person's sexual orientation, or efforts to change a person's gender identity or expression. These harmful practices are based on the false claim that being Lesbian, Gay, Bisexual, Transgender, or Queer (LGBTQ+) is a mental illness that should be cured.
The United Nations has even gone so far as to classify these practices as torture. Conversion therapy has been denounced by every mainstream medical and mental health association, including the American Medical Association, American Psychological Association, and the American Academy of Pediatrics.
Unfortunately, many LGBTQ+ Minnesotans are still coerced and subjected to these harmful practices, which put them at risk for serious harms such as depression, substance abuse, and suicide. As an organization, we are working to end this harmful practice in our state and celebrating everyone's #RightToBe!
Governor Walz Executive Order 21-25
On July 15, 2021, Governor Tim Walz and Lieutenant Governor Peggy Flanagan signed an Executive Order 21-25 to ban "Conversion Therapy" in Minnesota, protecting LGBTQ+ minors, vulnerable adults, and their families from this discredited practice. This executive order does so much to protect LGBTQ+ community members but we can do so much more. We still need to close the gap and sign into legislation a complete ban on "Conversion Therapy". Our Mental Health Protections Act bill will do that! Please follow us to stay updated and contribute to this fight! We couldn't have gotten this far with you.
Mental Health Protections Act
The Mental Health Act (MHPA) is a bill that OutFront Minnesota is supporting that will protect LGBTQ+ people from dangerous and discredited practices aimed at changing one's sexual orientation, including efforts to change gender identity or expression. This bill will prevent mental health care providers in Minnesota from practicing conversion therapy. This legislation will:
Protect Minnesotans from being coerced into treatments which are ineffective and which lead to depression, decreased self-esteem, substance abuse, self-harm and suicide.
Prevent parents from being taken advantage of by deceptive agents of the conversion therapy industry.
Help ensure that LGBTQ+ people receive mental health care that is ethical, affirming, and culturally competent.
Does NOT affect religious or individual prayer practices.
Restrictions only apply for paid services rendered.
While we cannot know the precise number of those who have been subjected to these practices in Minnesota, we know of multiple cases of LGBTQ+ people experiencing attempts to change their identity within our state. As of Dec 2021, 20 states, the District of Columbia, Puerto Rico, and more than 75 cities nationwide have restricted this harmful practice. On July 15th, 2021, Governor Walz signed an Executive Order that banned state funding from going to conversion therapy, although this did not ban the practice of conversion therapy altogether. Minnesotans have the chance to continue leading on LGBTQ+ rights by passing the Mental Health Protections Act.
These Minnesota cities have banned conversion therapy: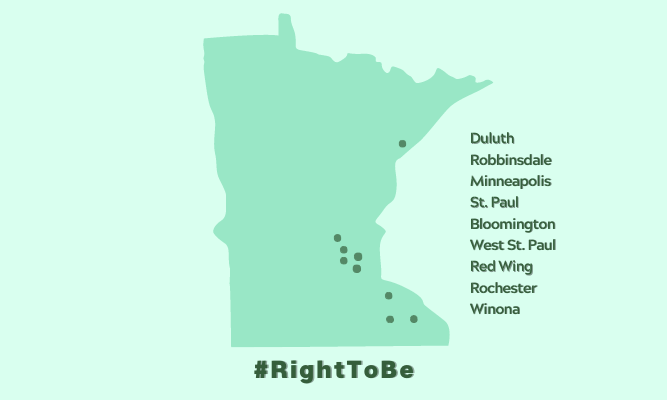 Sign Our Petition to Stop Conversion Therapy
Resources Concerning Conversion Therapy
American Psychological Association
"[The APA] advises parents, guardians, young people, and their families to avoid sexual orientation change efforts that portray homosexuality as a mental illness or developmental disorder..."
American Medical Association
"Our AMA...opposes, the use of 'reparative' or 'conversion' therapy that is based upon the assumption that homosexuality per se is a mental disorder or based upon the a priori assumption that the patient should change his/her homosexual orientation."
American Academy of Pediatrics
"Confusion about sexual orientation is not unusual during adolescence. Counseling may be helpful for young people who are uncertain about their sexual orientation or for those who are uncertain about how to express their sexuality and might profit from an attempt at clarification through a counseling or psychotherapeutic initiative. Therapy directed specifically at changing sexual orientation is contraindicated, since it can provoke guilt and anxiety while having little or no potential for achieving changes in orientation."
"Addressing Conversion Therapy in Faith" — Lewis P. Zeidner, President, United Theological Seminary
"As the President of a Christian Seminary serving students entering various forms of ministry, I am compelled to speak out in support of outlawing the unchristian barbaric practice known as conversion "therapy"; a practice that has as its goal, converting all to a heterosexual orientation and cisgender identity. As the Clinical Director of a mental health crisis intervention service and a mental health clinician I see the deep emotional trauma caused by such practices as it gets expressed through suicidal thoughts and behaviors, depression and chemical dependency."
Lobby Day is returning Wednesday, April 6th!
Join us! OutFront Minnesota is thrilled to bring back our annual day of advocacy on Wednesday, April 6th, starting at 12:00pm. After having to pause this event over the last few years, we couldn't be more excited to bring it back- and there couldn't be a more critical moment.
This year, Lobby Day will take place on the steps of the state capitol as a public demonstration of our movement's strength. We will feature speakers and storytellers as we call our activist network to action in passing the Mental Health Protections Act and opposing the multiple bills intended to rescind and damage LGBTQ+ rights.
Featured speakers include Representative Athena Hollins, Senator Scott Dibble, Representative Liz Reyer, and more LGBTQ+ champions!
Registration through the form below is requested.
Thank you to our generous Lobby Day hosts!
Seal Dwyer, MS, LMFT • Pamela Endean & Colleen Carey • Amy & Benjamin Marty • Wendy Nelson • John Sullivan • Jack Thompson & Brian C. Forney
Lobby Day Host Levels
If you're interested in making a gift towards our political advocacy efforts, consider becoming a Lobby Day host! All host benefits can be found here- use this link or email anne@outfront.org to give your gift today!