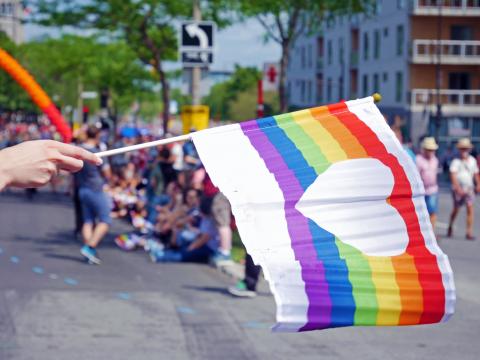 OutFront Minnesota's mission is to create a state where lesbian, gay, bisexual, transgender, and queer people are free to be who they are, love who they love, and live without fear of violence, harassment or discrimination.
Written and published by Social Solutions
At Social Solutions, our customers change lives every day. The work they do day in, day out impacts the lives of their communities and aims to make the world a better place. During Pride Month, the world's LGBTQ+ communities come together to celebrate the freedom of being their true selves, honor the achievements made by pillars of the LGBTQ+ community, and to bring awareness to issues the community still faces. Social Solutions is proud to work with nonprofit organizations dedicated to making an impact on a wide variety of LGBTQ+ issues. Read on to learn about some of the amazing organizations we partner with and visit their websites to learn more about their organization, Pride Month, and how you can get involved.
Equitas Health
Established in 1984, Equitas Health (formerly AIDS Resource Center Ohio), is a regional not-for-profit community-based healthcare system and federally qualified community health center look-alike. Its expanded mission has made it one of the nation's largest HIV/AIDS, lesbian, gay, bisexual, transgender, and queer/questioning (LGBTQ+) healthcare organizations. With 17 offices in 11 cities, it serves more than 67,000 individuals in Ohio, Kentucky, and West Virginia each year through its diverse healthcare and social service delivery system. Central to Equitas Health's mission is their approach of addressing patients and clients from a place of cultural humility, which increases overall engagement and retention in care, resulting in better health outcomes.
Los Angeles LGBT Center
Since 1969 the Los Angeles LGBT Center has cared for, championed, and celebrated LGBT individuals and families in Los Angeles and beyond. Today the Center's nearly 700 employees provide services for more LGBT people than any other organization in the world, offering programs, services, and global advocacy that span four broad categories: Health, Social Services and Housing, Culture and Education, Leadership and Advocacy. Despite their size, scope, and determination to meet the growing demand for their services, they remain a lean, fiscally disciplined organization, earning a four-star Charity Navigator rating for six consecutive years. They are an unstoppable force in the fight against bigotry and the struggle to build a better world, a world in which LGBT people can be healthy, equal, and complete members of society.
Lucies Place
Lucie's Place provides homeless LGBTQ young adults in Central Arkansas with safe living environments, job training and counseling services in order to ensure lifelong stability and success, while working to promote equality and acceptance for LGBTQ young adults. Since its opening in 2015, each year 50-70 LGBTQ young adults receive life-saving services and support at their drop-in center in the heart of downtown Little Rock. Visitors are provided bus passes, cell phones, toiletries, clothes, case management, counseling, and HIV testing, free of charge, and are encouraged to stay to work on job applications, resumes, continuing education, or, sometimes most importantly: just to hang out when they have nowhere else to go. For many, Lucie's Place is the only physical place in town where they can go without fear of discrimination, harassment or violence.
New York City Anti-Violence Project
The New York City Anti-Violence Project (AVP) was founded in 1980 by community activists in response to a series of brutal attacks against gay men in Chelsea, New York. Today, AVP provides free and confidential assistance to thousands of LGBTQ and HIV-affected people across New York City each year through a 24-hour bilingual hotline, counseling, support groups, legal representation and individual advocacy. AVP helps survivors of violence and allies become advocates for safety through participation in community education and outreach, development of organizing campaigns, and the creation and support of city, state and national coalitions to address LGBTQ and HIV-affected violence. AVP also coordinates the National Coalition of Anti-Violence Programs (NCAVP), a coalition of over 50 organizations that works to prevent, respond to, and end all forms of violence against and within LGBTQ communities. Today, AVP is the largest anti-LGBTQ violence organization in the country, having earned the trust of LGBTQ communities across the nation by showing up day in, day out for almost 40 years.
OutFront Minnesota Community Services
OutFront Minnesota's mission is to create a state where lesbian, gay, bisexual, transgender, and queer people are free to be who they are, love who they love, and live without fear of violence, harassment or discrimination. For more than 30 years, they have fought for equity for all Minnesotans through advocacy, education, crisis intervention and policy creation. As Minnesota's largest LGBTQ advocacy organization, OutFront Minnesota's services are expansive and include programs related to community organizing and coalition building, public policy, anti-violence, law, education and training, as well as a Youth and Schools Gender Sexuality Alliance (GSA) Network, all designed to lead to the day when all Minnesotans have the freedom, power and confidence to make the best choices for their own lives.
Sacramento LGBT Community Center
The Sacramento LGBT Community Center works to create a region where LGBTQ people thrive. They support the health and wellness of the most marginalized, advocate for equality and justice, and work to build a culturally rich LGBTQ+ community. Input from community stakeholders and evidence-based data has molded the Center's menu of programs for nearly 30 years, ranging from youth to Health/HIV to training and outreach, to arts and culture. As the landscape for LGBTQ+ people and their families has evolved, so have the Center's offerings. What hasn't changed, however, is a dedication to always be a place where LGBTQ+ people are safe, welcome, and needed, working in unison to create a better tomorrow for the region's LGBTQ+ people.
Translatinx Network
Founded in 2007, Translatina Network is made up of trans individuals working locally and nationally to promote the healthy development of transgender Latina communities. Through the delivery of a wide range of information about services and events, educational outreach, and capacity building resources, Translatina Network supports individuals in maintaining personal wellness and developing leadership skills. In doing so, they help to create safe and productive spaces for transgender women free of transphobia and discrimination. Translatina Network addresses the collective concerns of Latina transgender women including the recognition of their rights, giving a voice to the voiceless, and advocating for change promoting a direct connection to policy makers. The driving force behind Translatina Network is their transfeminist peers and colleagues. Their initiative was born of their collective efforts fighting for Translatina rights in New York. As community members and providers, they continue to lead the way while remembering: "This is our story, our fight, our identity as Translatina women" – they are a strong team, and they deliver strong results! They are an exceptional team providing everything you need to stay informed and actively engaged with your community.
See how Social Solutions can help your organization impact even more lives!
To read this article and more, visit the Social Solutions blog.