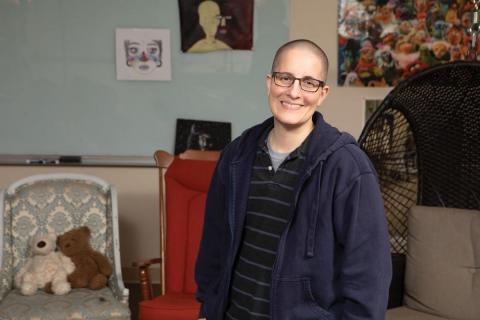 Written by Deena Winter, with photographs by Sarah Whiting
July 9, 2019
The largest LGBTQ civil rights group in Minnesota, OutFront Minnesota, announced Monday they have hired Kelly Holstine, the 2018 Minnesota Teacher of the Year from Shakopee, to expand OutFront's educational program for schools.
The organization is expanding its programming for educators and students to counter what it calls a deteriorating atmosphere for LGBTQ youth and educators in Minnesota schools. OutFront Executive Director Monica Meyer linked the changes to anti-LGBTQ rhetoric from certain public officials and pundits. OutFront has offered anti-bias training to schools since 2014.
"We know that a safe and supportive environment can mean the world to students and fundamentally change their school experience," Meyer said in a press release. "Bringing Kelly Holstine on staff to continue that work is the next step in building the best possible school environments for all of Minnesota's youth, including, and especially, our LGBTQ students."
Holstine, who resigned from her job in the Shakopee Public Schools as an English Teacher at Tokata Learning Center, said she plans on using her years of experience and training to help educators decrease inequity and increase inclusivity in their classrooms and schools. As director of educational equity at OutFront Minnesota, she will provide support, teach concrete strategies, facilitate self-reflection, and assist with policy changes. Her goal is to work with educators across the state in order to decrease an educational equity gap in Minnesota.
She will work with educators, youth program staff members, advocates, and policymakers "to support and create school environments that cause humans to feel safe, respected and valued," Holstine said, and "help districts become more inclusive and supportive of LGBTQ people."
Holstine, a gender nonconforming lesbian, made national news in April, when she and another teacher of the year declined to attend a White House ceremony honoring them, to protest the president's policies and rhetoric, which she said harms her students.
Holstine said Tuesday there was some backlash over her decision.
"There were some folks who were pretty angry," she said.
But she said, "I've had to deal with that my entire life. But not on this scale."
She got death threats and angry emails, letters and voicemails at Tokata, for example.
"They found me," she said. "It just really shows me people who are oppressed, we need to stand up for those kids. It doesn't silence me it just makes me stand up for those kids."
Even while talking about death threats, she is friendly and forgiving, saying she knows "Hurt people hurt people."
But she was supported by many, too, including the Shakopee school district, from the superintendent to her students, who learned about her new job soon after she accepted it.
"The district is extraordinarily supportive," she said.
Trainings can be scheduled by contacting Kelly by email: kdholstine@outfront.org or by phone: 612.767.7658.
To read this article and more, visit the SW News Media website.