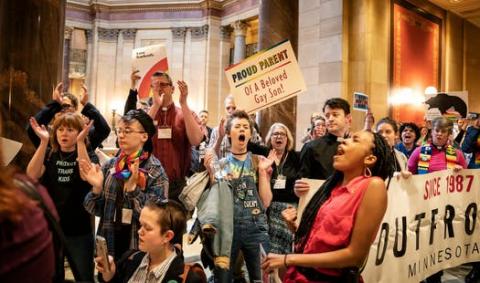 by Emma Nelson
The St. Paul City Council is considering banning conversion therapy for minors, with an ordinance that would impose fines on licensed medical professionals who practice it.
Conversion therapy, which seeks to change someone's sexual orientation or gender identity, is banned in many cities across the country. The Minneapolis and Duluth city councils passed ordinances last year. In early March, the Golden Valley City Council approved a proclamation denouncing the practice and calling for a statewide ban.
Council Member Mitra Jalali said St. Paul leaders started working on the ordinance last year but ran into delays as they devised a way to enforce it.
"This is something that I view as part of a bigger regional effort to ban conversion therapy," Jalali said. "We needed some time on our end to give it the care and the meaningful weight of the law it deserves."
The pandemic will likely delay St. Paul's proposed ban by several weeks. The council, which started meeting remotely this week, is focusing on a COVID-19 response and postponing measures that could lead to a crowded public hearing.
"We find ourselves in very unexpected, uncertain times right now," Jalali said, "but we want to forge ahead with this no matter what, because the dignity and safety and protection and rights of queer youth don't change, regardless of what's happening in our world."
After a DFL proposal to ban conversion therapy for minors in Minnesota failed during the last legislative session, advocates with OutFront Minnesota set their sights on getting policies passed at the city level, said Junior Avalos, policy and organizing coordinator.
"It's up to cities to start doing it, because it not only offers protection, but it's a great learning opportunity," Avalos said. "Hopefully that puts pressure on the state level to pass something."
Avalos said he's heard from people who went through conversion therapy in St. Paul but couldn't furnish the number of providers in the city.
The proposed St. Paul ordinance would prohibit licensed medical and mental health professionals from practicing conversion therapy on anyone under age 18. Enforcement would fall to the city's Human Rights and Equal Economic Opportunity department, and violations would incur fines of up to $1,000.
Minneapolis uses the same enforcement mechanism — a $500 fine for the first violation and $1,000 fines for subsequent violations — but the city's Civil Rights Department has received no complaints, according to spokesman Casper Hill.
Unlike cities, the state would have the power to revoke the licenses of medical professionals who practice conversion therapy and could also regulate unlicensed providers, Avalos said. OutFront is working to pass an updated bill this legislative session, he said, although lobbying efforts at the Capitol have slowed during the COVID-19 pandemic.