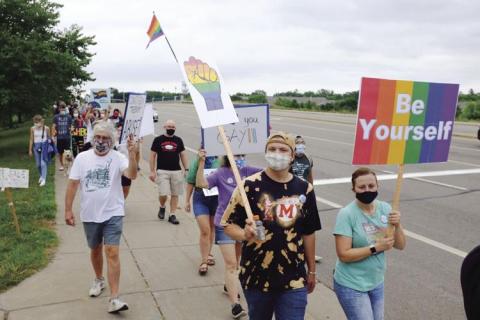 by Alaina Rooker
Activists and supporters of LGBTQ rights met the morning of Aug. 8 outside of Redeemer Evangelical Lutheran Church to protest an all-day seminar they believed was a form of gay conversion therapy. The seminar, titled "Distinctions: Discovering Biblical clarity in a sexually-confused world," was delivered by Outpost Ministries, a faith-based public speaking organization.
The protest was organized by newly-formed citizen group Birdtown Pride, and aided by LGBTQ rights nonprofit OutFront Minnesota to oppose the programming and show support for seminar participants.
Zach Koranda, a protest organizer, said he wanted to make sure the protest's "biggest presence" was when seminar attendees checked in to the conference at the Regent Avenue church, especially if there were young people forced by a parent to attend. However, in light of the protest, the seminar moved online, though Outpost personnel appeared to live-stream the event's keynote speeches from within Redeemer Church, Koranda said. Still the protest went on, with a peak crowd of 50
"We made the decision to continue the protest to bring awareness to the community that this is taking place (even if done virtually) and that Redeemer Church played a role," Koranda said.
According to the event website, the seminar was open to parents and teens, as well as pastors and adults. The organization also hosts a Distinction for Youth seminar, though that was not the title of the event hosted in Robbinsdale.
Koranda identifies as gay, and said he personally struggled coming to terms with it as a teen.
"Some parents really want their kids to be quote unquote 'normal,'" he said. "The suicide rates amongst queer and gay teens are astounding. It's just a sensitive time in peoples lives."
Therapy and ministry
In a statement submitted to the Sun Post, OutPost Ministries disagreed that the seminar constituted conversion therapy.
"As a Christian ministry, we don't practice therapy of any kind, we practice our faith," the statement read. "Some people choose to live differently after they encounter Jesus Christ. We're here as a safe-space to help these Christians live out their personal convictions regarding their faith, biblical sexual morality & behavior, and God-given identity—no matter the struggle they claim."
According to the organization's website, the group was founded in 1976 "to meet the needs of men and women seeking freedom from unwanted same-sex attractions." The organization says it is located in the Twin Cities (it has a Robbinsdale mailing address), but operates "throughout the Upper Midwest."
Freedom debates
In response to the protest, OutPost said "We understand others may not share our biblical views. We respect their freedom to live and share their views and we ask for the same courtesy to be extended towards us as well without mischaracterization."
Koranda disagreed that the seminar had a right to be held due to freedom of speech or religion, because in many cases vulnerable youth was involved.
"You're essentially indoctrinating children," he said. "Children – and adults, too – can get brainwashed into believing they have to change. It's not true. We're not degenerates. If this [protest] plants a seed, if the parents don't hear it but their kid sees this and covertly does some research on their own, that's awesome."
Birdtown Pride
Birdtown Pride is a new organization and Koranda is a co-founder. The group began in response to a similar event Redeemer Lutheran Church hosted last year.
"There was a demonstration then, too," he said.
Those involved had planned a formal launch after election season, but changed their minds upon learning of the seminar. Koranda said it was difficult to find details of where the seminar was being hosted, but eventually discovered it was once again being hosted at Redeemer Lutheran.
He said Birdtown Pride also had significant concerns that Redeemer church was a polling location.
"It sends a really poor message to tell LGTBQ folks, or people that believe in human rights in general, that they have to go vote in a place that is amounting to conversion therapy," he said."It sends a really poor message to tell LGTBQ folks, or people that believe in human rights in general, that they have to go vote in a place that is amounting to conversion therapy," he said.The group is making moves to get a citywide ban on conversion therapy considered by the City Council. It created a subcommittee with the Human Rights Commission last month to begin the process.
"I don't perceive that this is the last you'll hear of the Birdtown Pride group," Koranda said.
Conversion therapy bans are in place in a handful of Minnesota cities, including Minneapolis and Golden Valley.
Koranda said he's felt a strong sense of community and allyship, as the group has been propelled by non-LGBTQ neighbors.
"The majority of the people that are really helping lead this are cisgender white moms in Robbinsdale – there's some gay people, but we're outnumbered by straight white moms supporting this movement," he said. "I think they understand it's important that people in Robbinsdale feel comfortable being themselves."