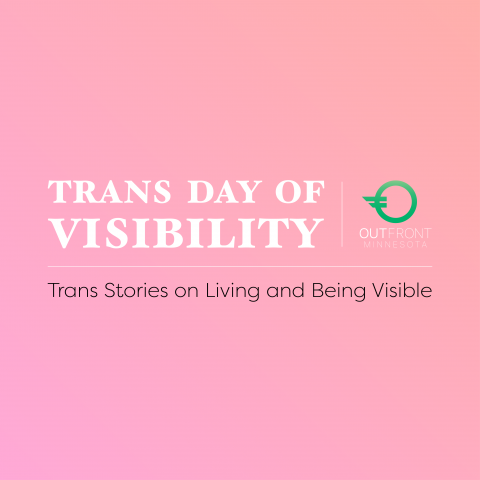 Trans Day of Visibility is Tuesday, March 31st 2020. TDOV is an international observance to celebrate transgender people around the globe and raise awareness of the challenges they face. To celebrate & honor #TDOV, we compiled stories from some of our supporters & community members across Minnesota! These stories are centered around visibility in healthcare and framed around 5 distinct topics: Stories of Competent & Inclusive Trans Healthcare, Challenges with Trans Healthcare, Needed Changes in Trans Healthcare, The Impact of Positive & Negative Experiences in Healthcare on Mental Health, and Stories on Visibility within the Healthcare System.
Those who submitted stories were given the option of adding their location, age and gender identity to their story, it is listed where available. The stories below are a sampling of the submissions from this outreach.
Stories of Competent & Inclusive Trans Healthcare
Minnesota is doing some great things when it comes to trans healthcare and while there is still much more work to be done, we wanted to start off with some success stories. This grouping is all about how healthcare providers are getting it right (most of the time).
My doctor and I have talked about my body and the medical screenings that will remain part of my care (like pelvic exams) because those screenings will still be important for my overall health. She puts much effort into providing me with appropriate care and I have never felt "less than" with her because of who I am.
I had my run-ins with dead naming and misgendering for a time at the clinic with the reception workers. My doctor helped me work that out. She always helped me to make my social and medical transition easier at her clinic and in the courts for my name and gender changes, really, name and gender corrections. She answered all of my questions she could, medical, legal, political, historical about transgender medicine.
I've experienced the most affirming care from my current therapist. She specializes in autism and is very familiar with queer identities as well. I feel like she understands the nuances of socialization and identity--she can talk about the effects being raised as a girl had on me without implying that I'm a woman.
At Family Tree Clinic, every single staff person has their pronouns on their nametags. There are signs throughout the clinic asking people to use gender-neutral language when addressing anyone in the space. The art on the walls of the clinic are inclusive and center trans people and people of color. The bathrooms are all single stall and gender inclusive. There is a lending library of books and zines that center trans people. There are coloring sheets that are trans affirming. All of these seemingly little things result in me as a trans non-binary person knowing that I am seen and understood in that setting.
Minneapolis, MN | 38, Non-binary, Gender Fluid/Genderqueer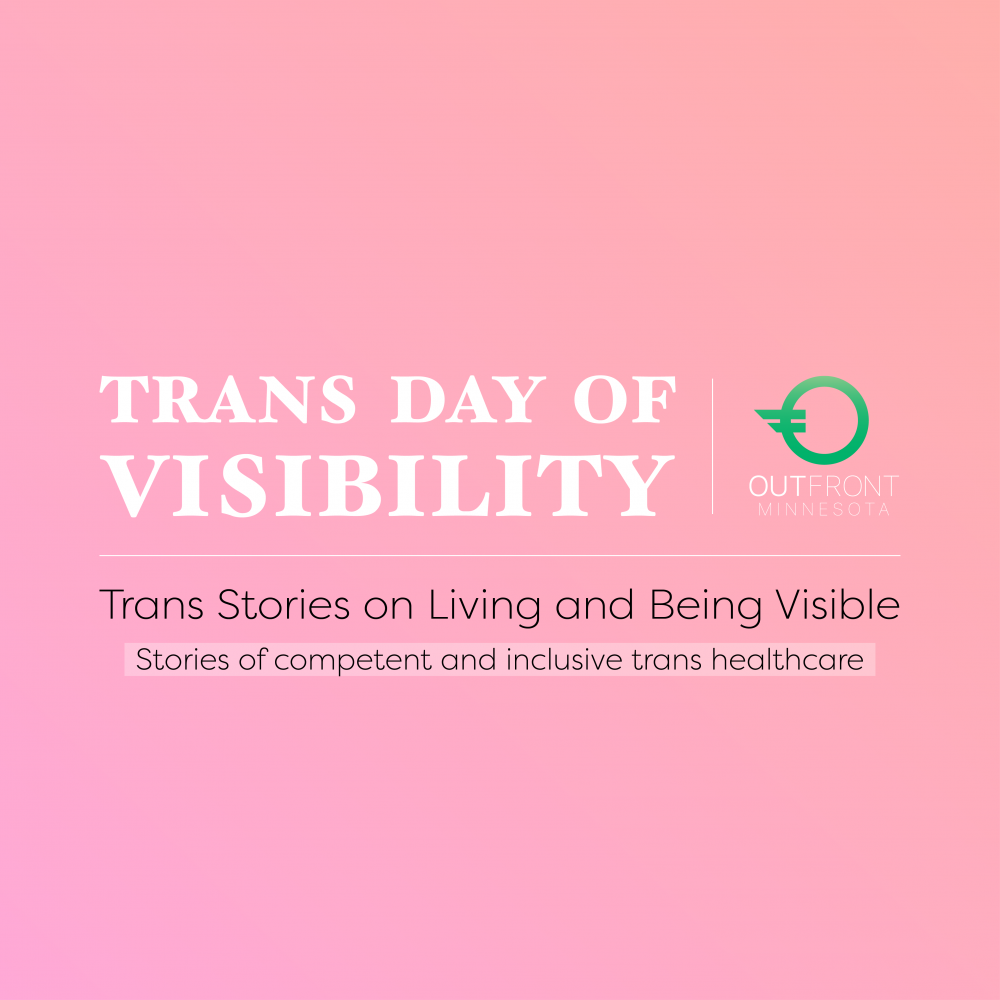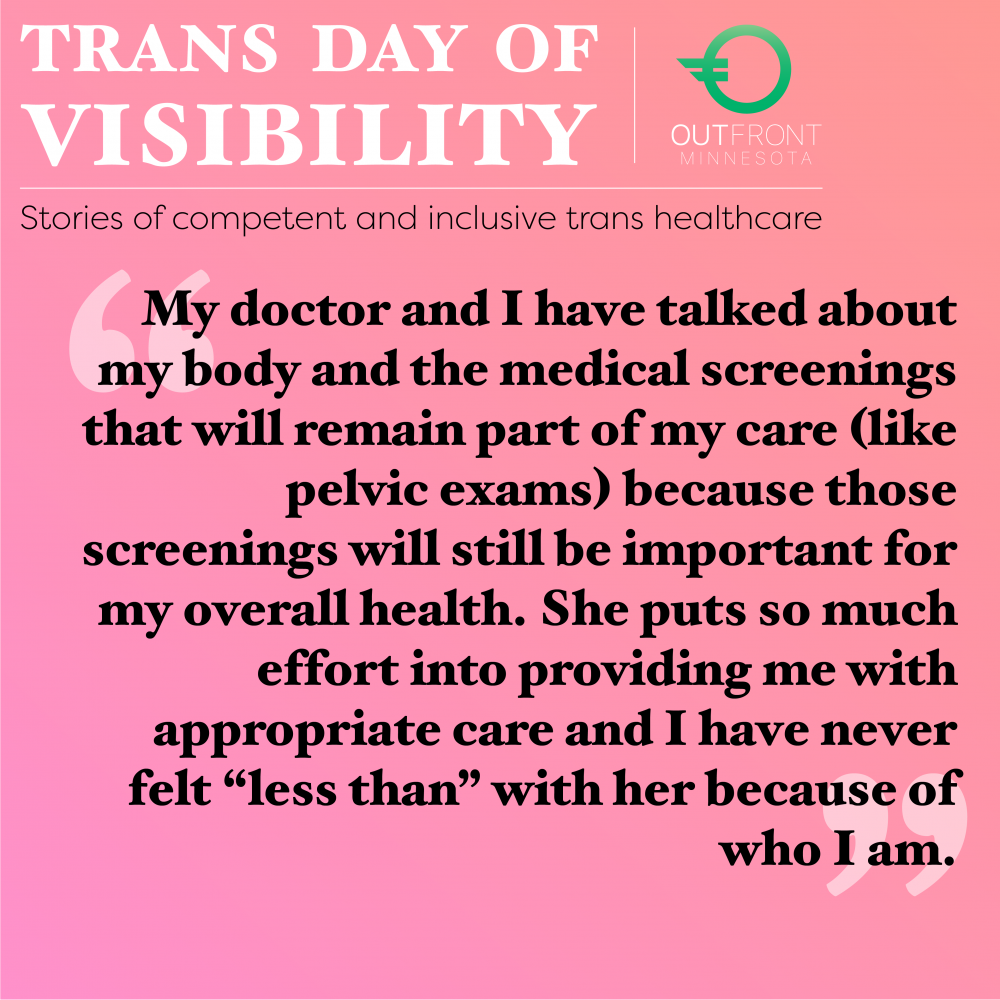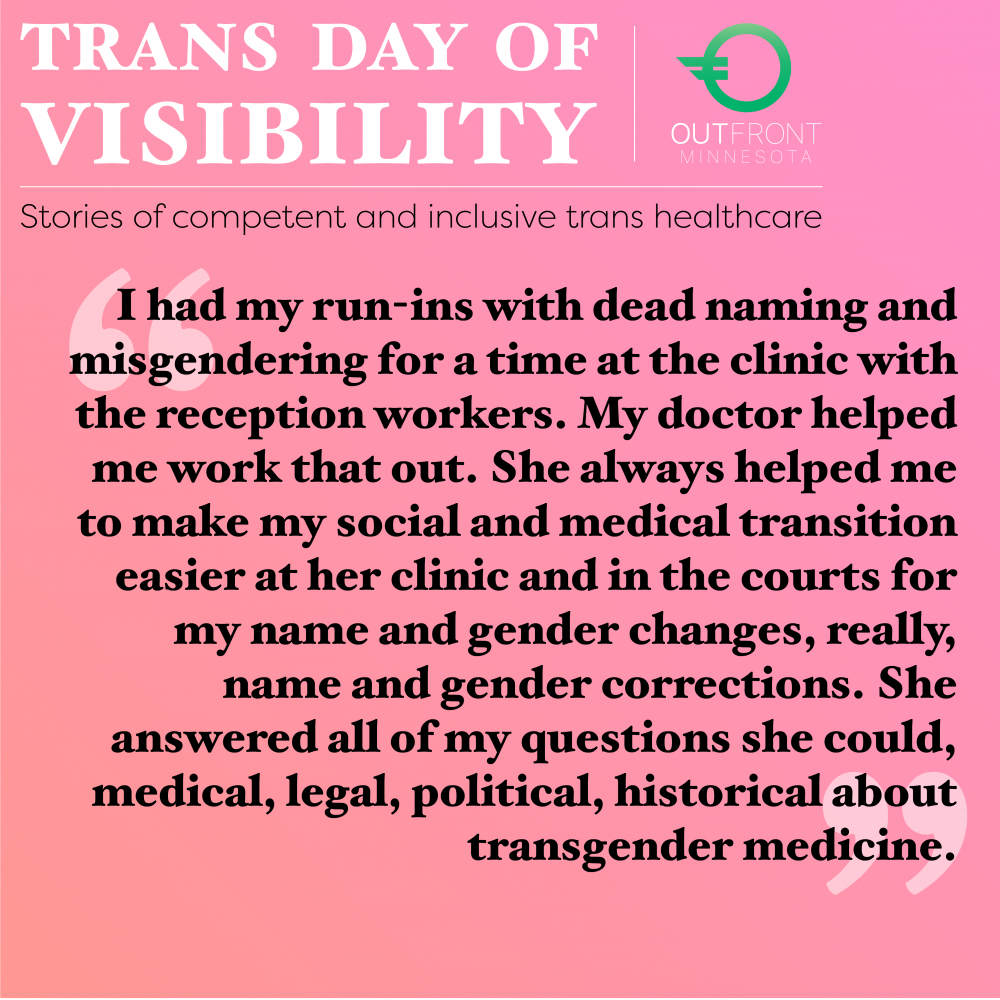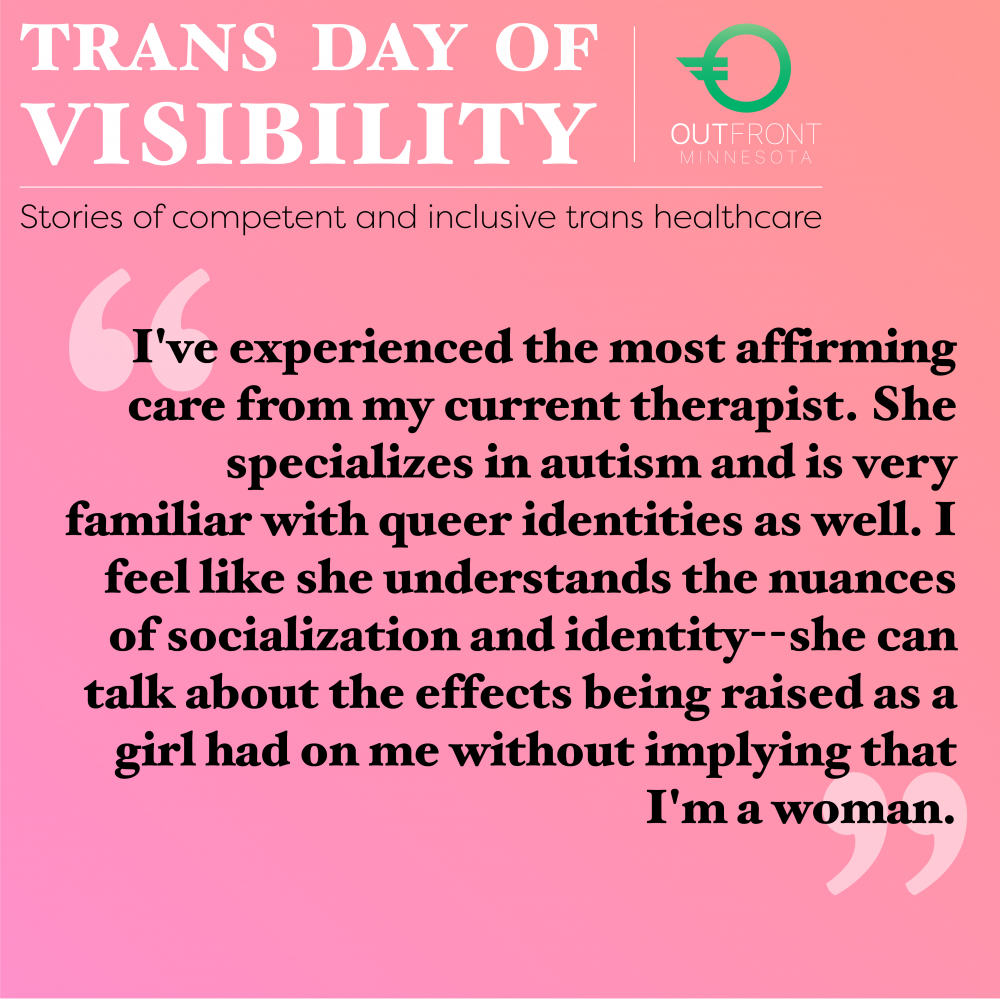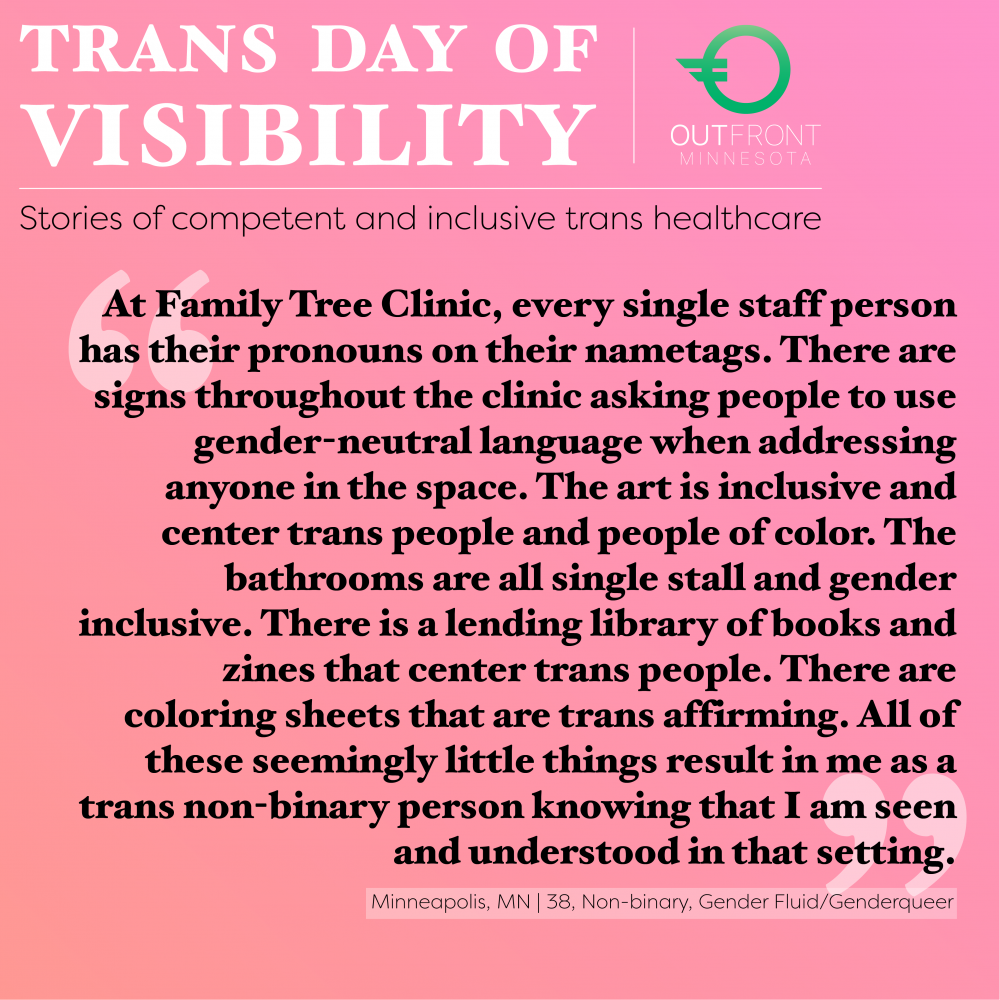 Challenges in Trans Healthcare
Even with great strides in healthcare for trans, non-binary and gender nonconforming people, our healthcare system is broken and real people suffer because of it. We reached out to community members and asked what challenges they have faced here in Minnesota with healthcare access and visibility.
The least affirming care I ever received was at both the St. Mary's ER and the Olmsted Medical Center (OMC) ER, at various times though St. Mary's has gotten better recently. In the past, I was misgendered and called by wrong pronouns repeatedly at both and was refused service at OMC by one doctor once when they saw my boy parts.
Rochester, MN | 54, Trans Woman
In my experience there are some (not enough) dedicated and caring providers working within a system that (a) acts like it has never encountered a trans person or diagnosis of gender dysphoria before and (b) doesn't appreciate the significant mental health implications for denying or delaying trans healthcare. Trans healthcare is routinely denied for economic reasons as well as through limited provider availability, bias, unwillingness to recognize the harm and urgency of untreated gender dysphoria/incongruence, and lack of understanding.
Minneapolis, MN | 41, Non-Binary Trans Woman
As I grew into myself and began living my truth, I found myself searching for health care experiences that spoke to my truth. I remember my experience getting my IUD insert and feeling like I couldn't share with the nurses and doctor that, despite me having female reproductive organs, I wasn't a woman. Taking care of my sexual and reproductive health is so empowering, but for my gender identity not to be seen and recognize was damaging. After this, I've intentionally gone to clinics and spaces that are made for queer folks to ensure I can receive the care I need while also feeling safe.
My doctorate level psychiatrist led me to my first new family doctor. She summarily dismissed my transition stating that I'd made it to thirty-nine years old and so have little need to transition. She pointed to my body and basically told me I'd never pass and it would just cause me a lot of emotional and physical pain and massive expense.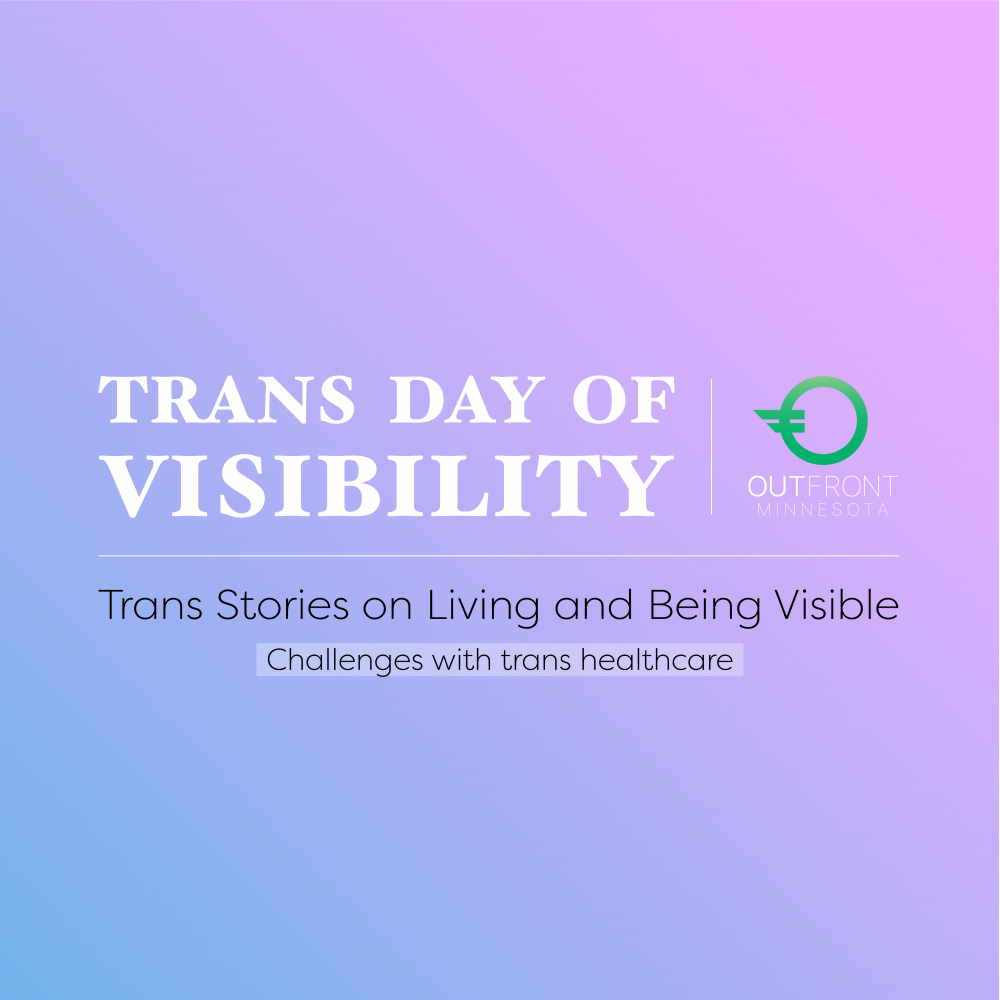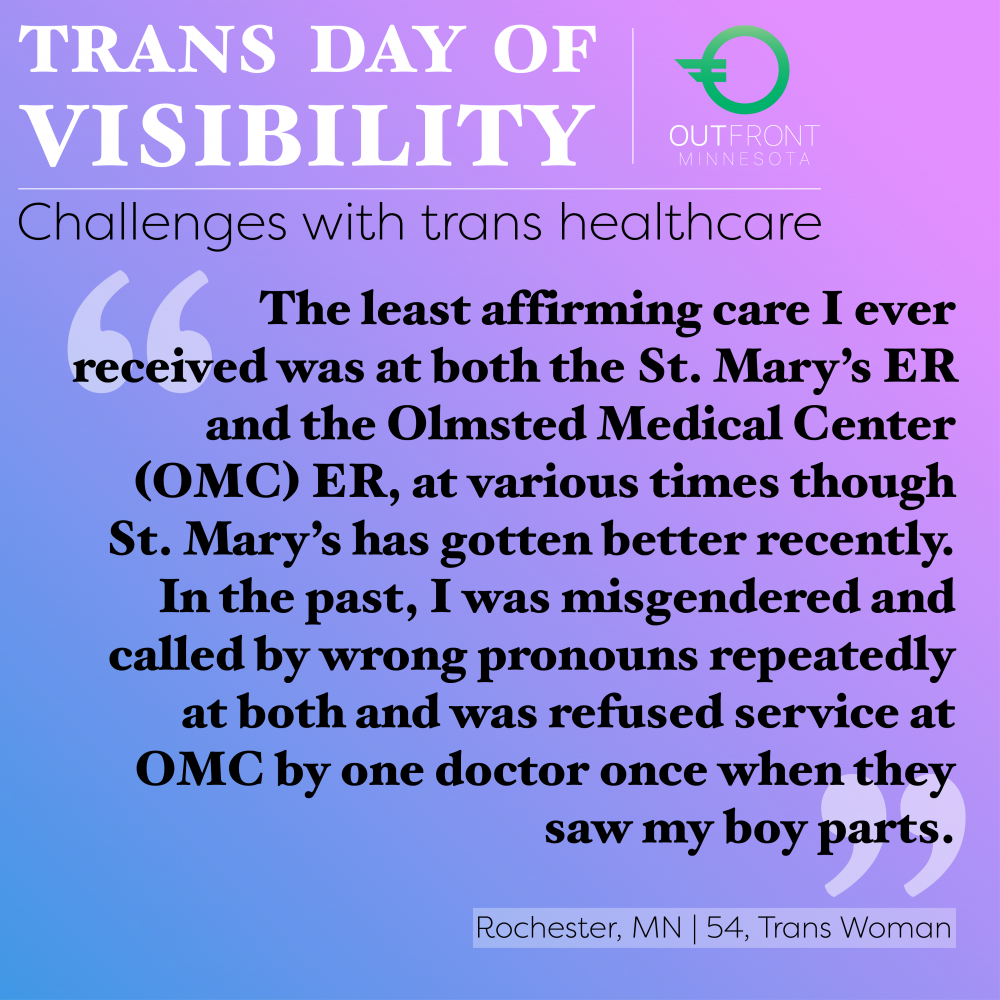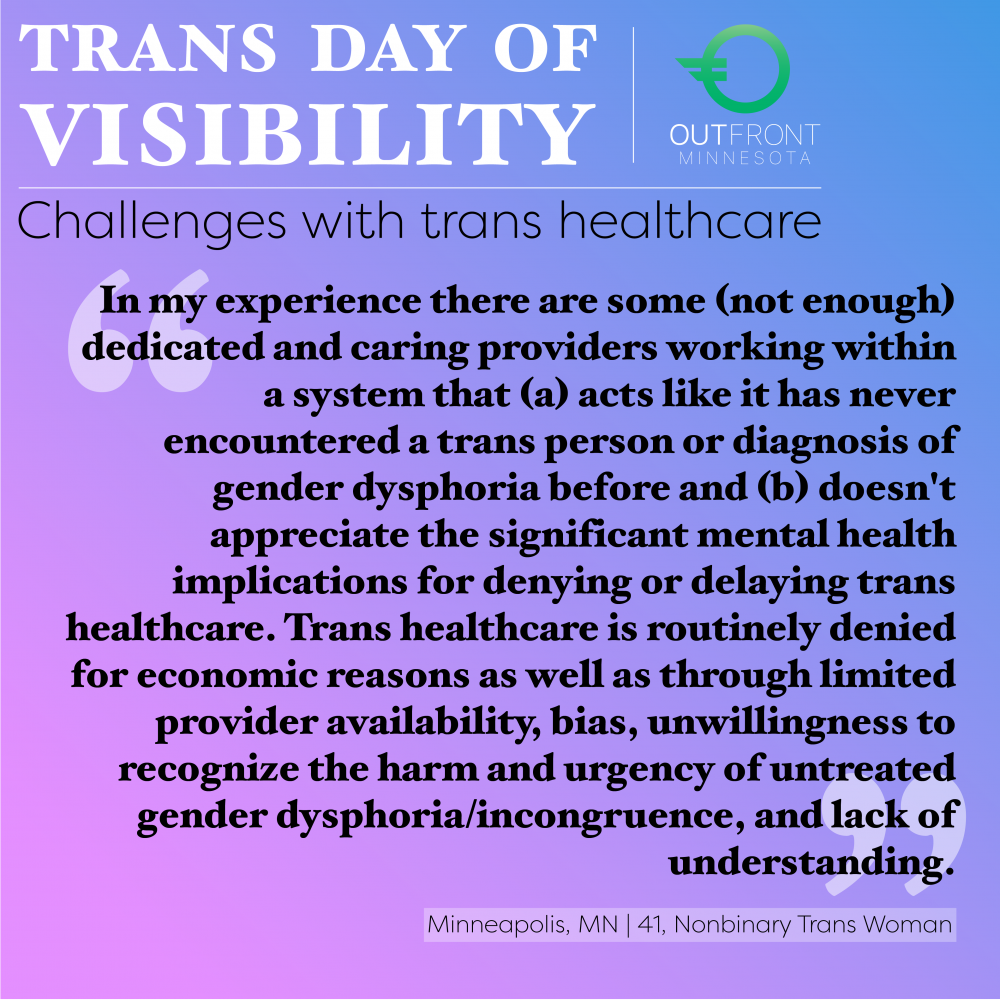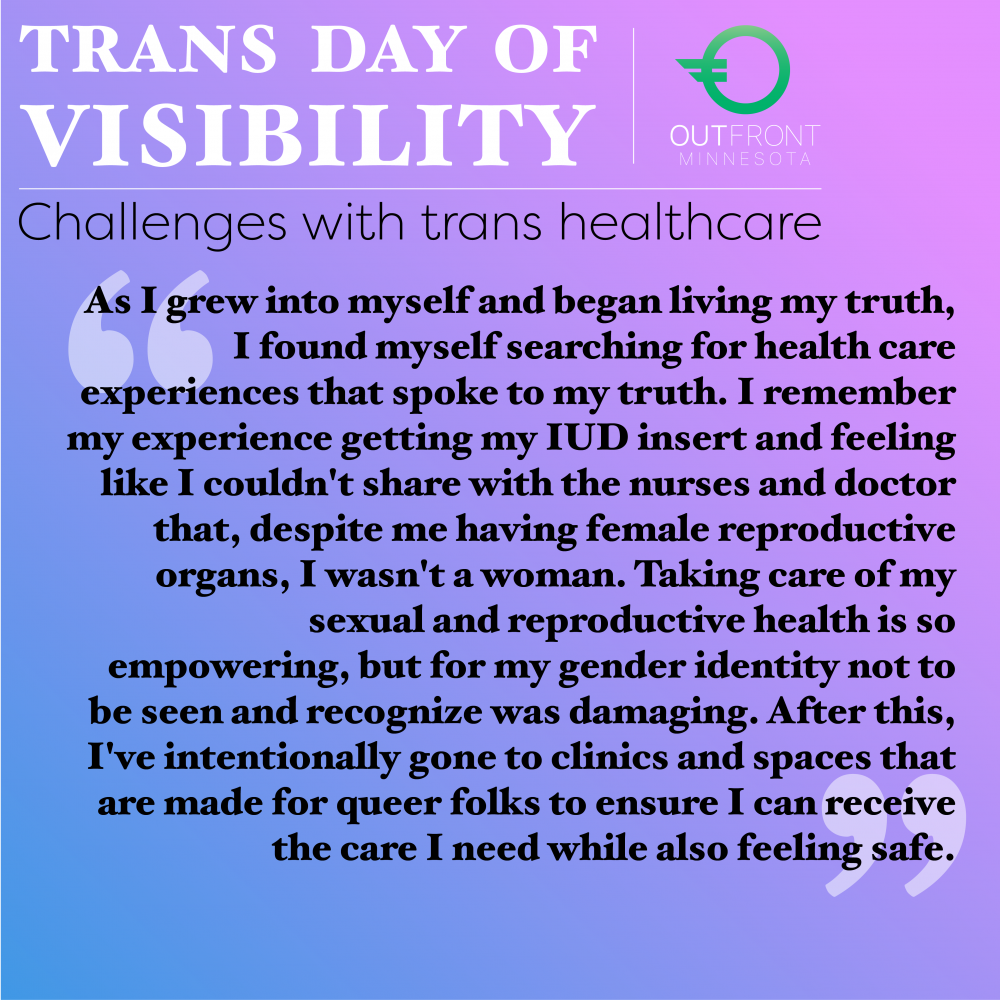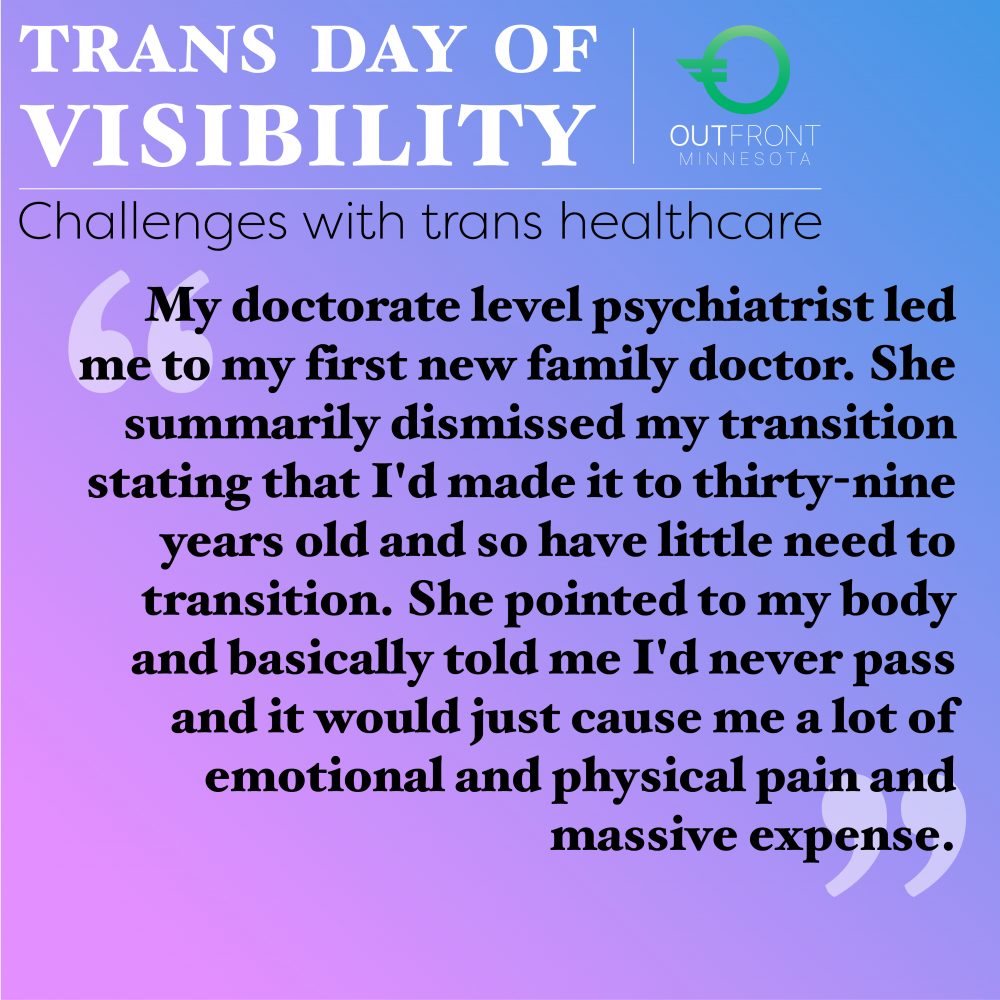 Changes We Need in Trans Healthcare
Knowing that our healthcare systems MUST do better to care for our trans, non-binary and gender nonconforming community members, we checked in to see what changes our community wanted to see.
I'd like to see more gender neutral bathrooms in health care facilities, easier access to HRT with informed consent models, more providers who are competent in gender care, more gender competent care across the board in health care for all kinds of health matters, more inclusive forms for healthcare to include genders that are nonbinary, perhaps forms that state "sex assigned at birth" and "gender identity" and "reproductive organs that are present" etc.
Lakeville, MN | 49, Nonbinary Trans Man
The informed consent model needs to be applied not only to HRT, but to all gender affirming procedures and care. Trans people need to stop being forced to jump through hoop after expensive and traumatic hoop to prove to cis people that they are worthy of life saving health care. We've come a long way, but we have SO far to go.
All clinics should have free needle exchanges. All clinics should provide free safer sex supplies (including gloves, dental dams, and internal condoms). All communities should have safer use sites where people can use substances under medical supervision. All clinics should have and give out free narcan. All clinics should be safe and welcoming for sex workers.
Health care needs to be free and accessible for everyone.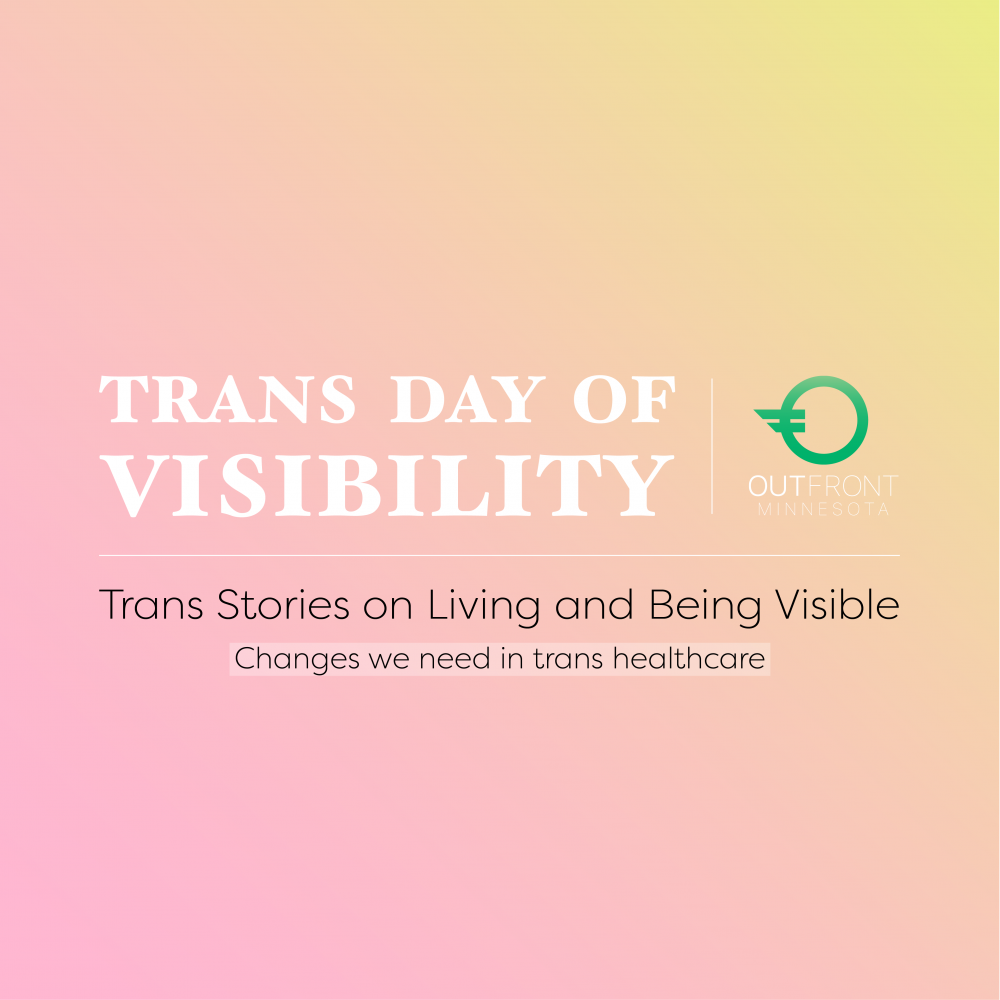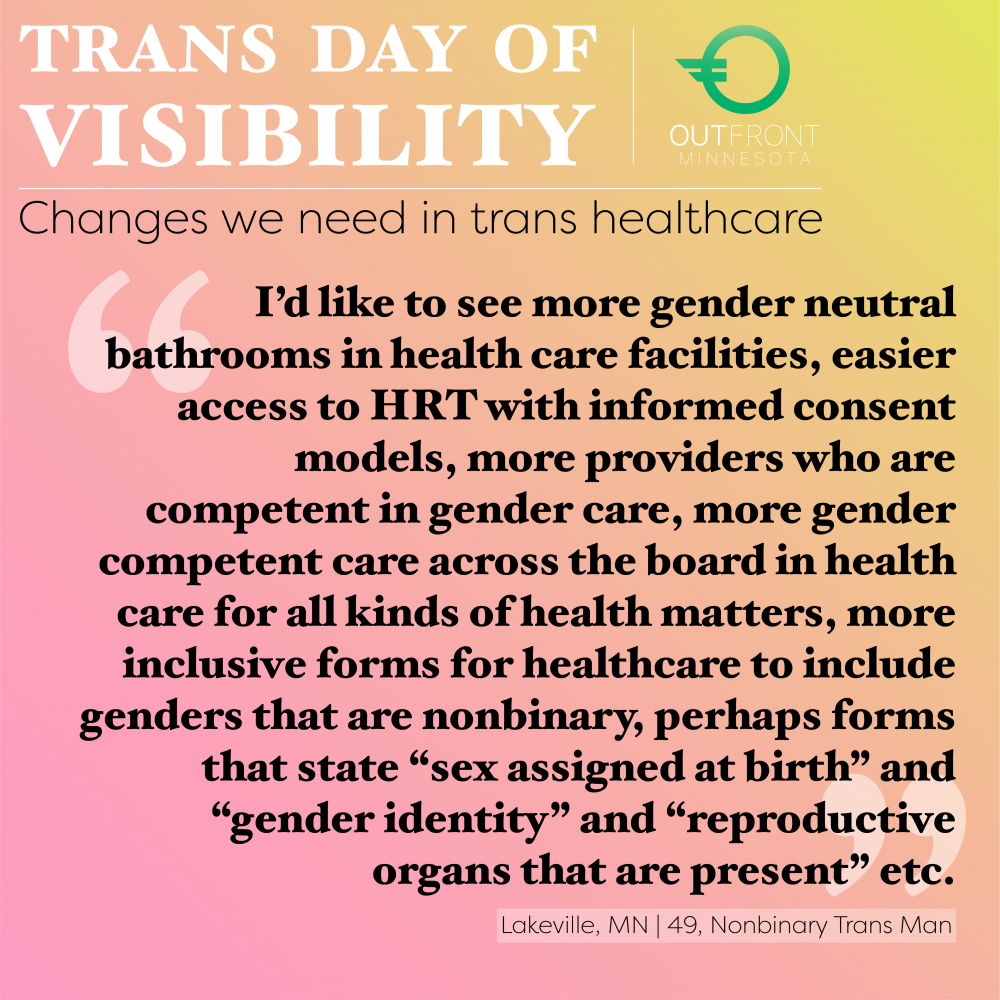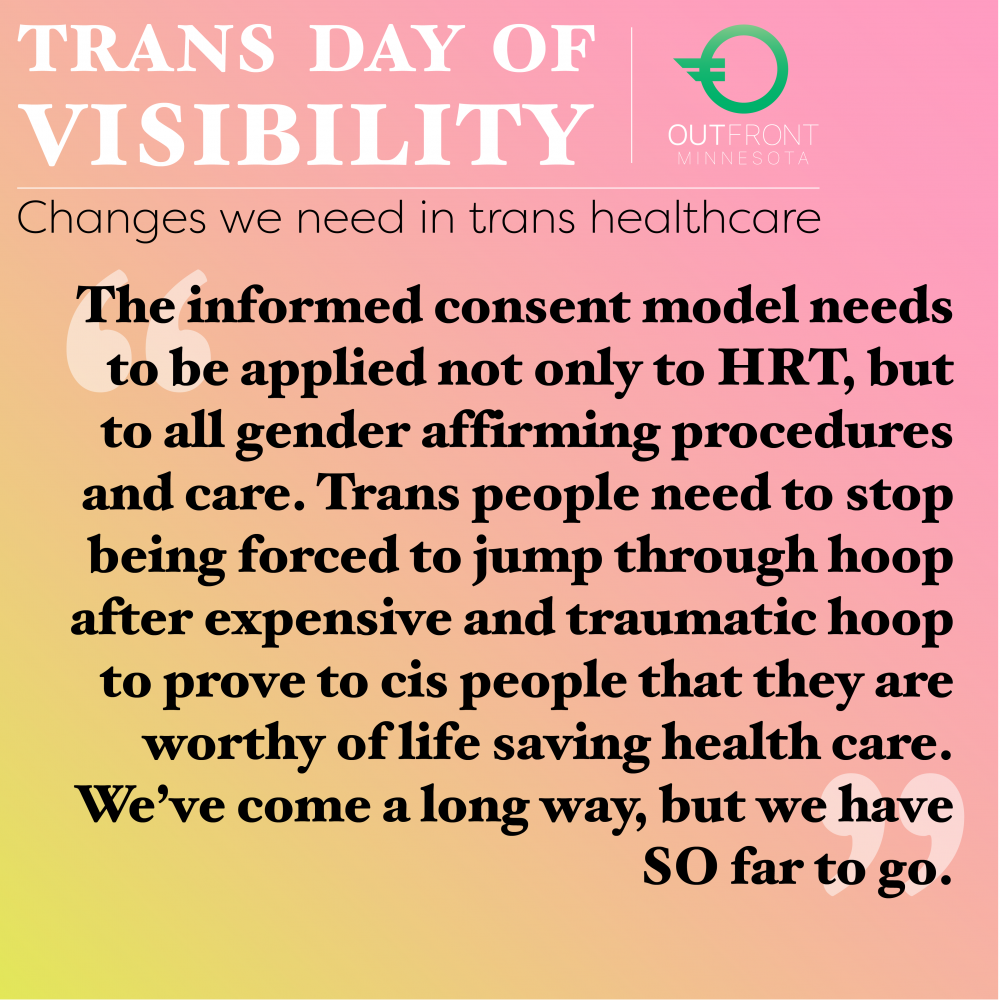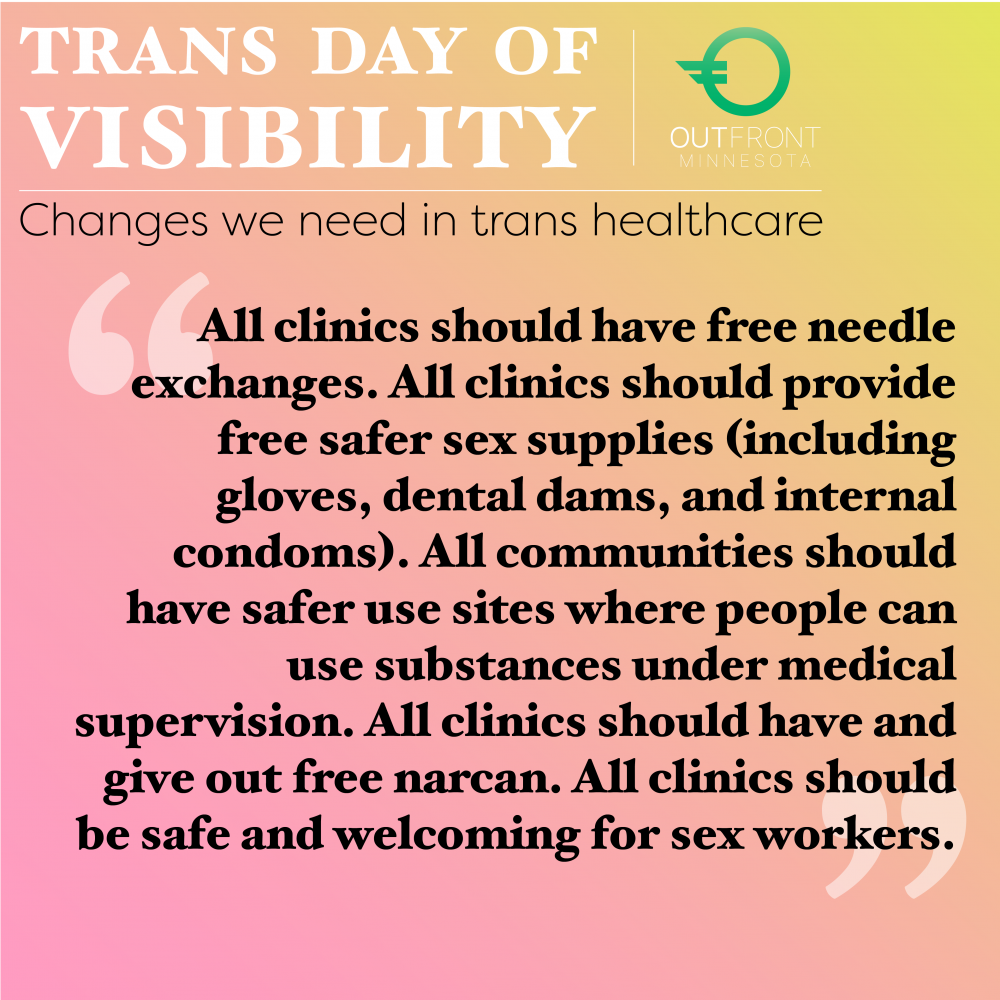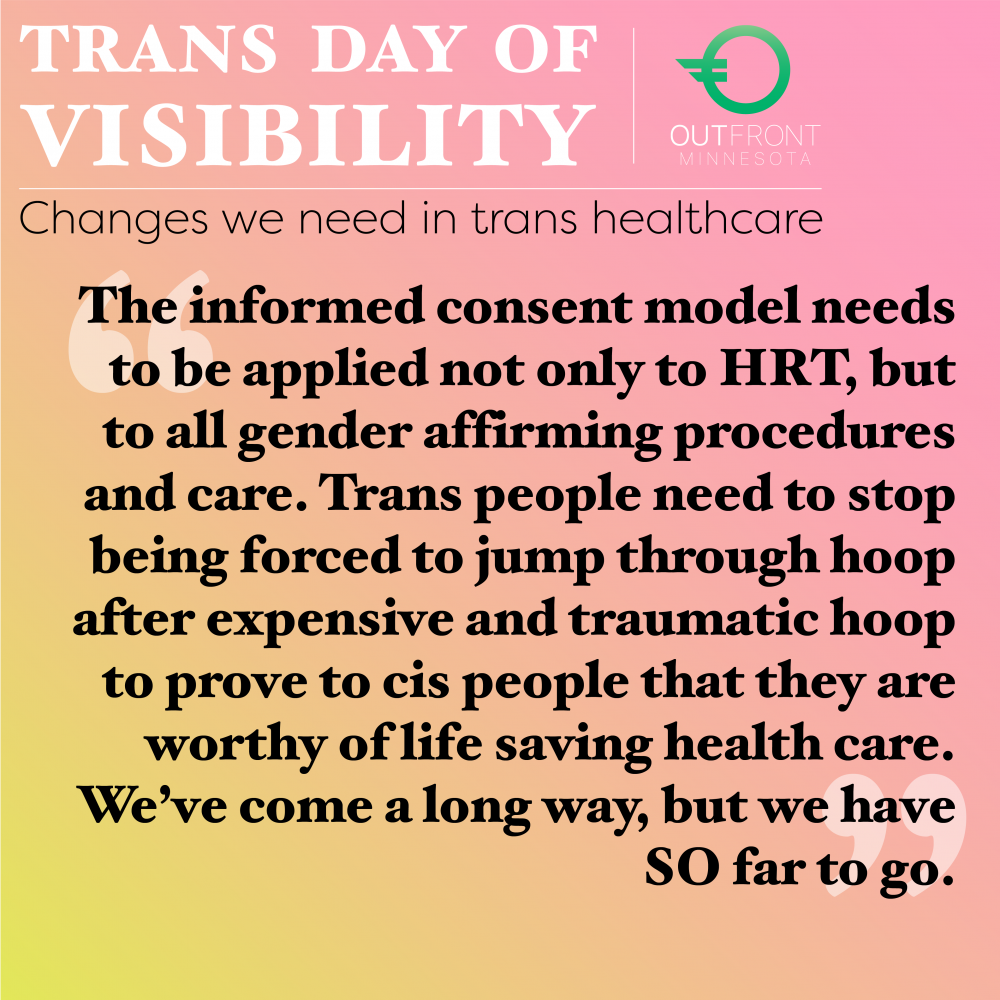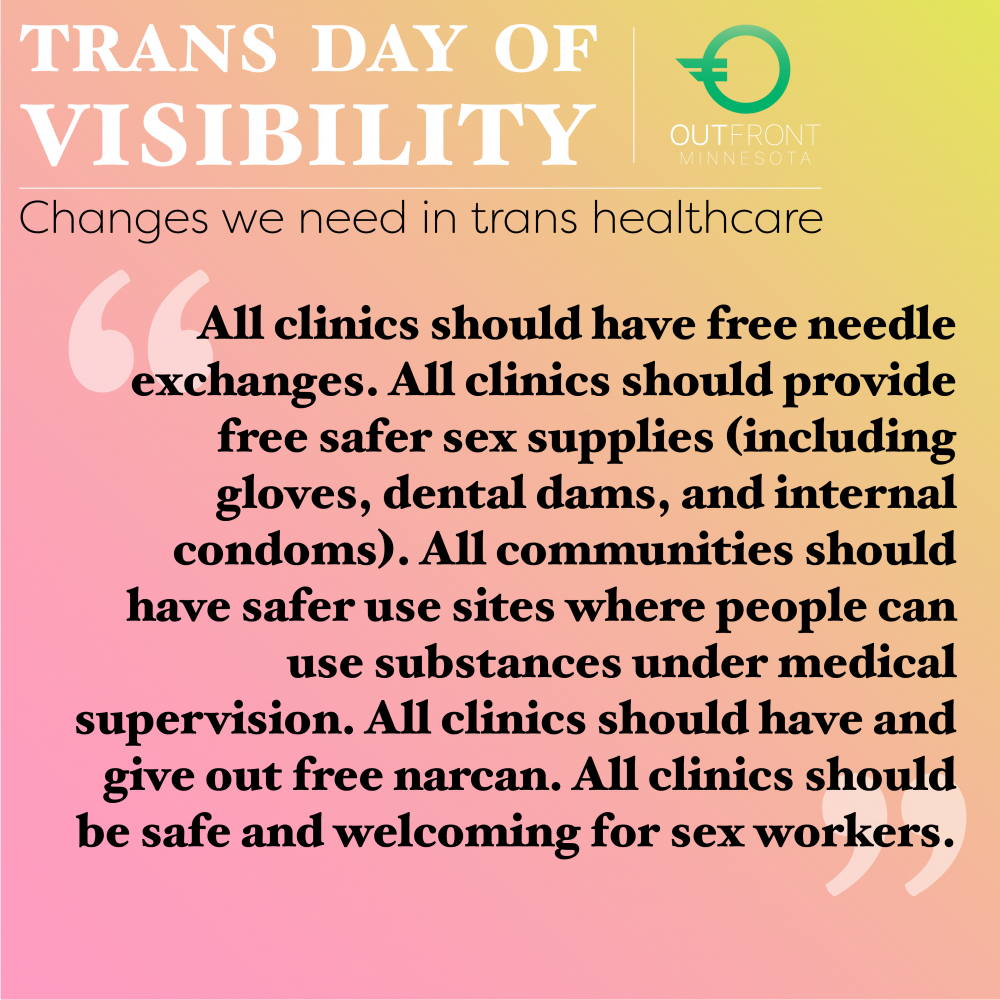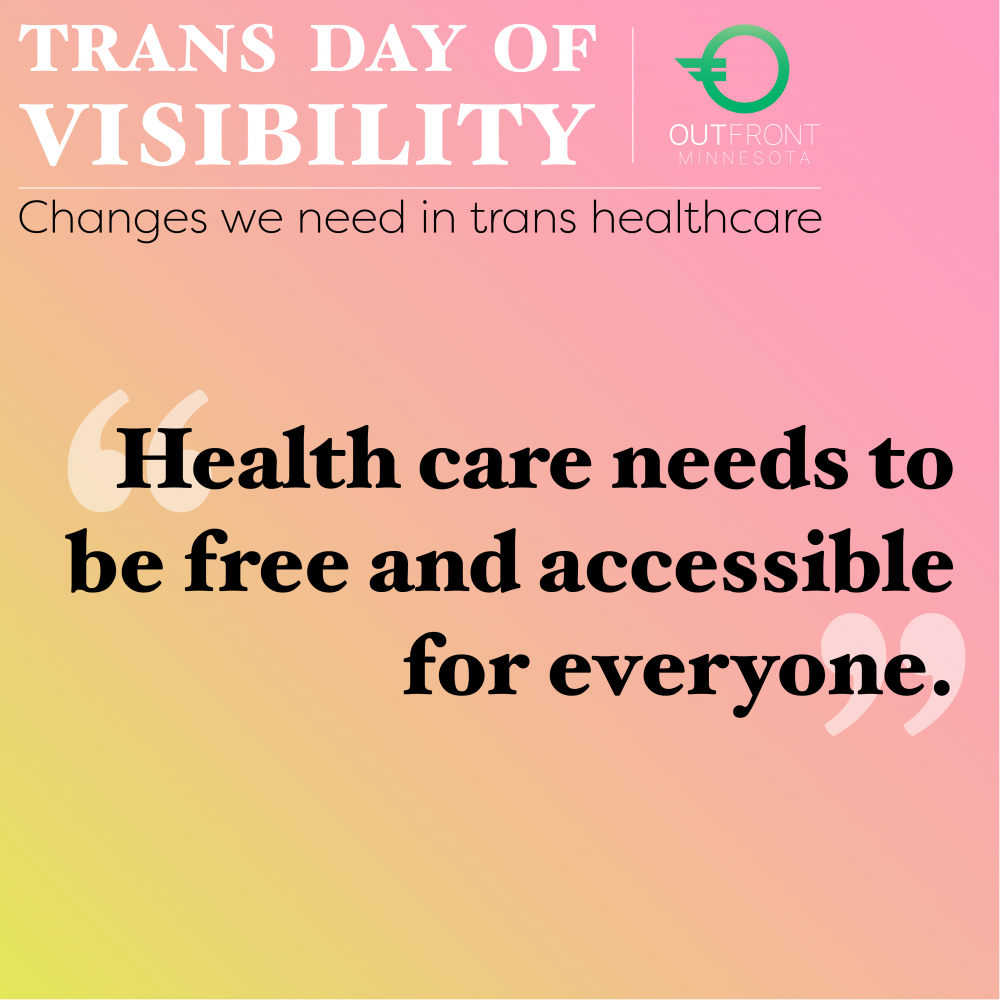 The Impact of Positive & Negative Experiences in Healthcare on Mental Health
Healthcare facilities and Doctor's offices should feel like some of the safest places to be. We should feel seen and heard and cared about and cared for. Unfortunately, that is very often not the case. Below are stories of how both positive and negative experiences in healthcare impact mental health.
I know I am extremely lucky to have this supportive team to assist in my health care, and I am extremely lucky to have health insurance that covers the majority of the cost of this care. Not many of us have this necessity. I cannot say where I would be, or "if" I would be without this care.
Lakeville, MN | 49, Nonbinary Trans Man
Having the positive experiences that I have had has made it easier for me to get the help and care that is appropriate for me. I can see how having negative experiences can be dangerous for mental health and contribute to feelings of worthlessness and suicidal ideation.
I think that my previous therapist was not as effective at treating my mental health as she otherwise would have been, because she kept misgendering me. Otherwise my health care experiences don't stand out as particularly traumatizing. I feel like I've been pretty lucky, but I also feel like a lot of that luck comes from pretending to be cis in most medical contexts.
Minneapolis, MN | 23, Non-Binary
After receiving care at my primary care clinic, I feel the need to regroup and refuel by surrounding myself with the support of other trans people. I need time and space to recover emotionally after receiving invalidating care there. And, keep in mind, that that place is not even a bad clinic. It's average. If I need to recover and heal from care at an average clinic, imagine what it's like for people who have to receive care at truly problematic clinics. Health care that is not trans affirming puts lives at risk every day.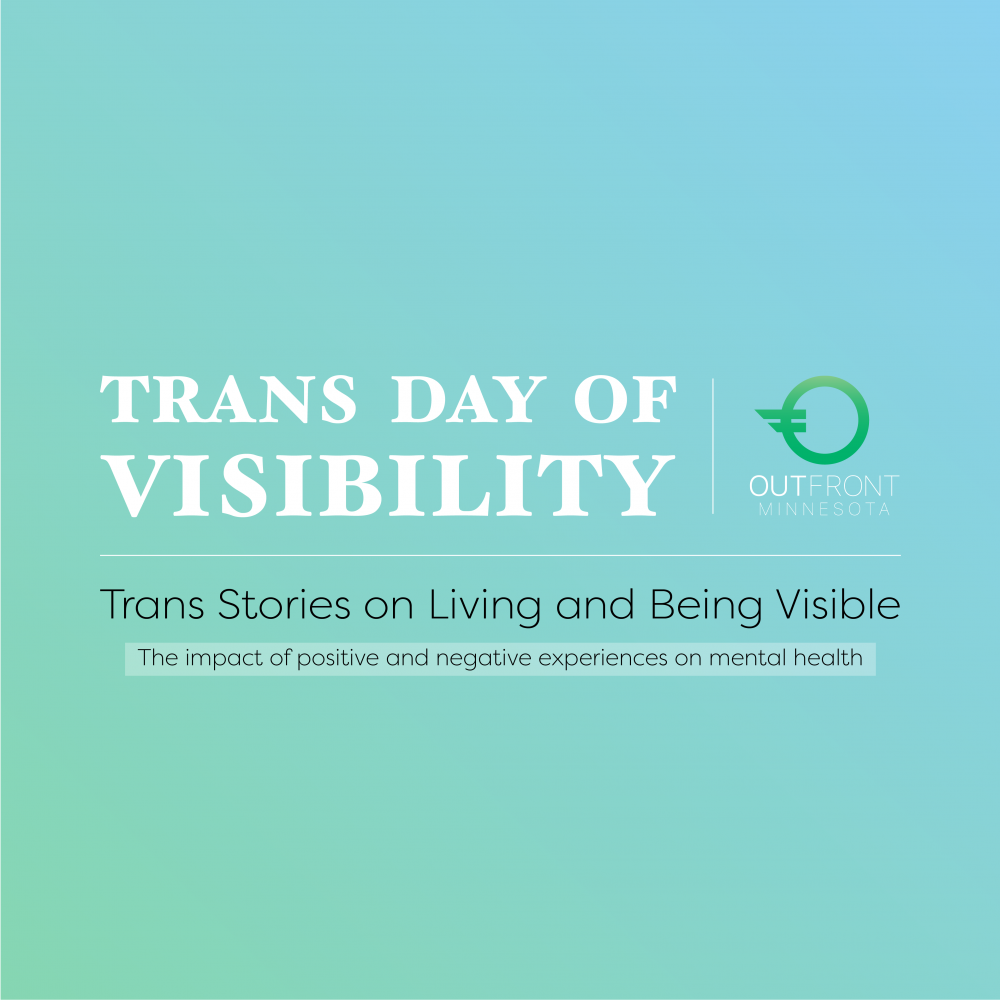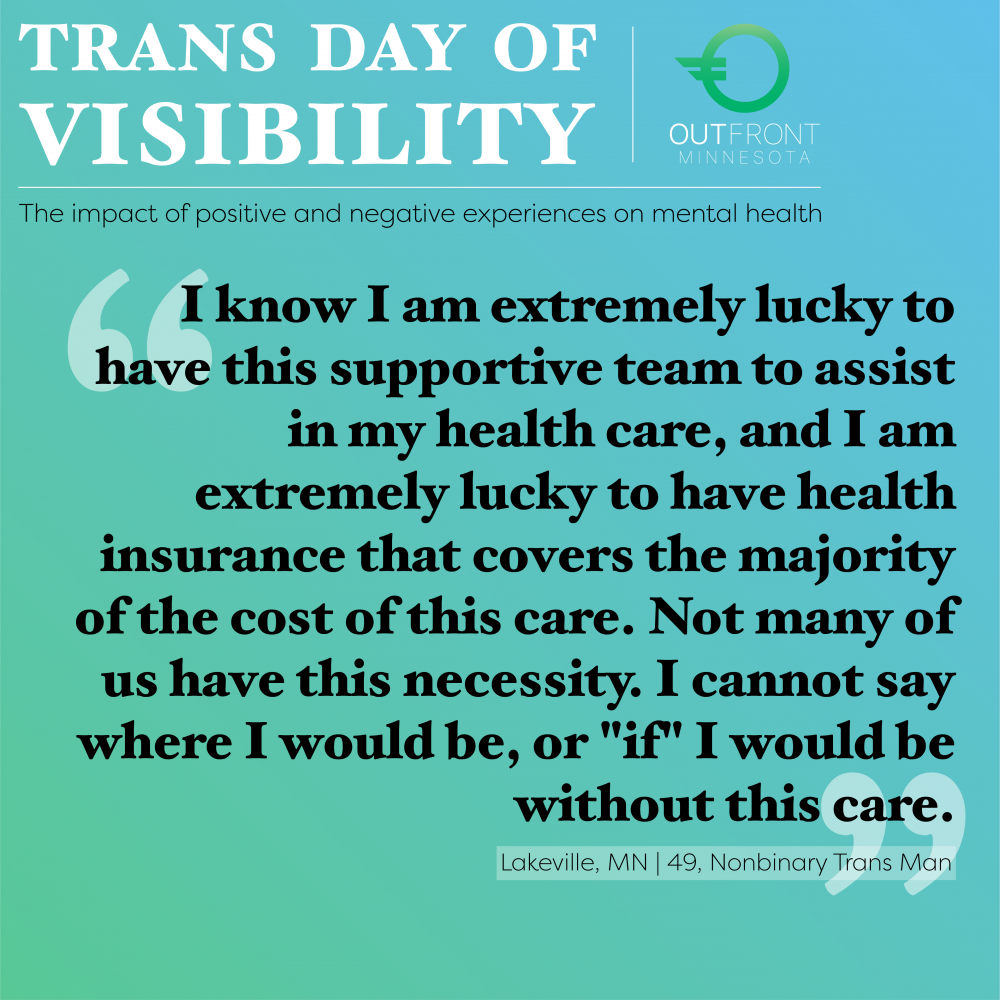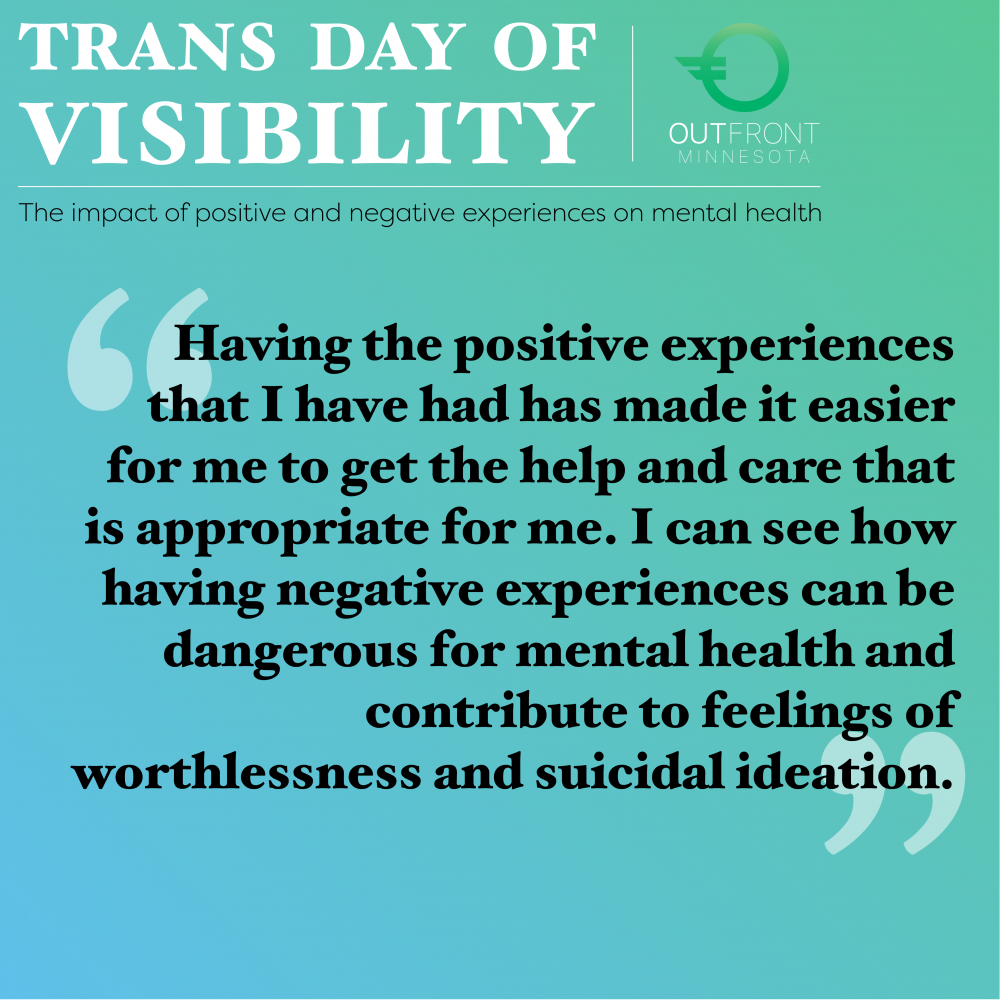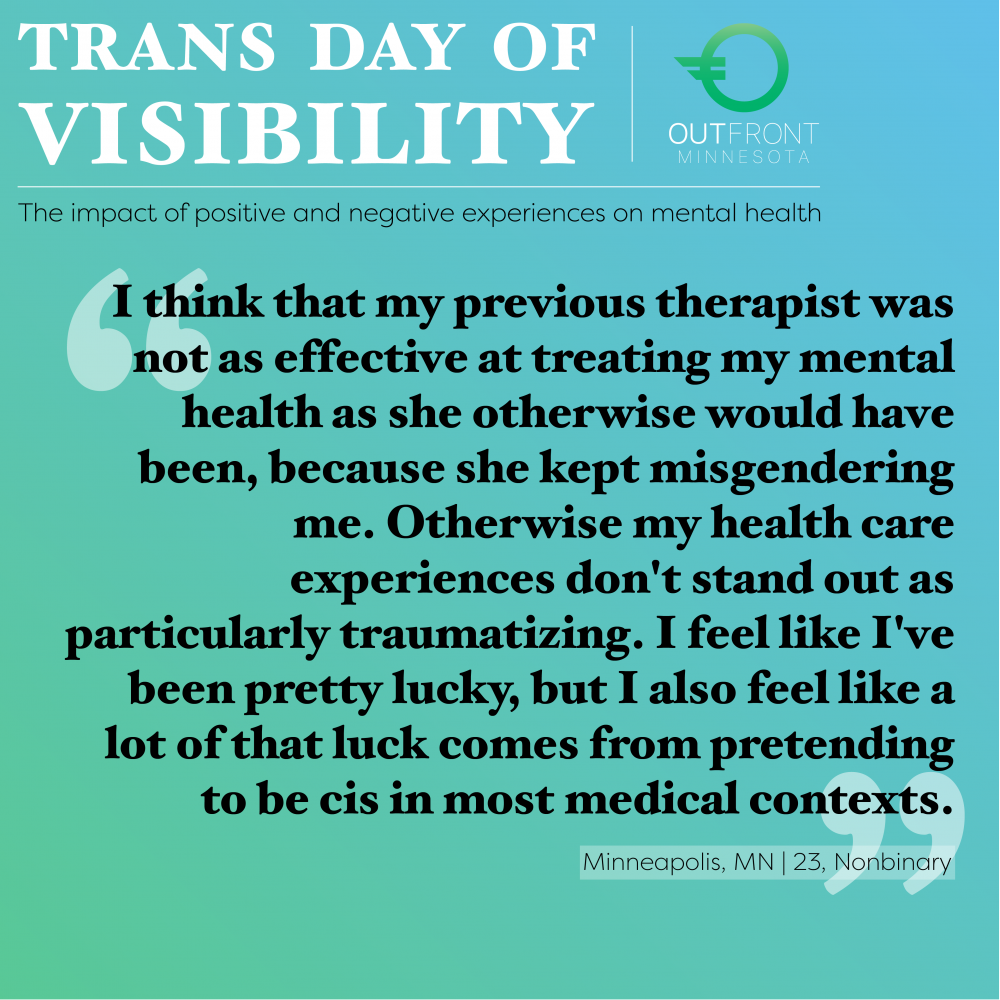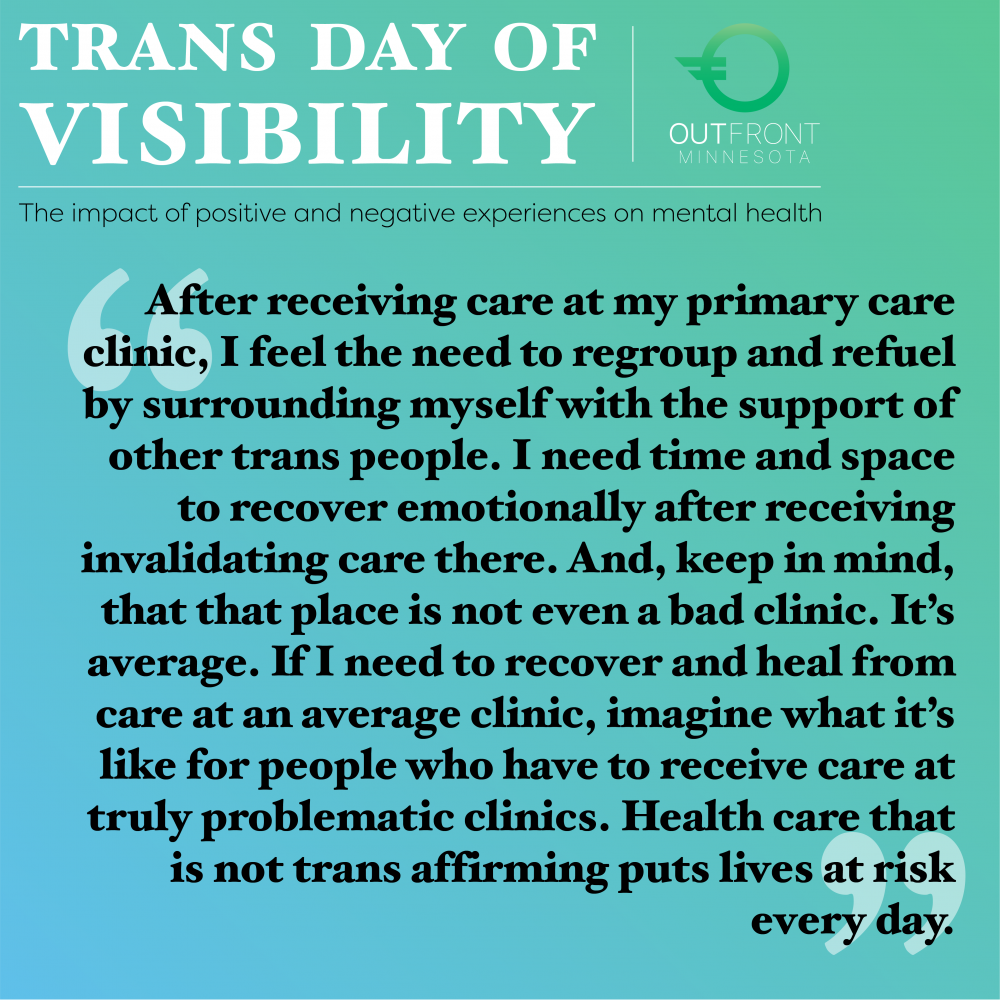 Stories of Visibility in Healthcare
Our final question is all about being seen and being visible.
I'm not out to most of my health care providers because I'm afraid they might deny me care, ignore what I say, or just be mean to me if they knew. I can deal with being misgendered, even though it's not fun, so I choose that over being out.
Minneapolis, MN | Non-Binary
I have attempted to be out to all of my providers, but I don't think the staff at my primary care clinic know what non-binary means. I have educated some of the staff, but I can't keep doing this with every interaction I have with a different person there.
Minneapolis, MN | 38, Non-binary, Gender Fluid/Genderqueer
Transgender and Intersex Specialty Care Clinic [TISCC] makes me feel more comfortable in seeking care anywhere within the Mayo system [as a trans woman]. Outside of TISCC, I'm not so sure.
Rochester, MN | 54, Trans Woman
I am out [to my health care providers] and this is important for appropriate care.