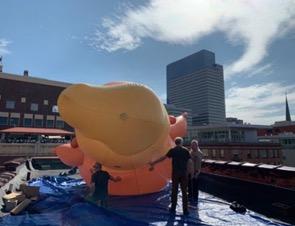 A straight Trump supporter who threatened to boycott a gay bar has inadvertently created a new meme, complete with merch!
Here's how it happened.
Popular Minneapolis, Minnesota gay video bar The Saloon attracted attention for flying a "Trump baby" balloon in anticipation of a planned Trump rally in town.
Facebook posts from local news outlets' coverage of the balloon prompted straight Trump supporters to voice their displeasure, vowing to 'boycott' the business… which none of them would ever patronize in the first place.
One of those commenters was Pamela Ogletree, who defiantly proclaimed that "The Saloon lost my business."
Someone replied: "It's a gay bar, Pamela."
And thus a meme was born.
"It's a gay bar Pamela" pic.twitter.com/f2PXMmGos5

— Tony Webster (@webster) October 10, 2019
— Trjegul (@SavannahMidwest) October 10, 2019
It's a hair salon, Pamela pic.twitter.com/TvvOBY2J7K

— toothpickings (@toothpickings) October 20, 2019
Then came the merch.
🌈 IT'S A GAY BAR, PAMELA. 🌈
available now at https://t.co/7f042rCg8V
50% of proceeds will goto @outfrontmn
💜💜💜💜💜💜💜💜💜💜💜💜 pic.twitter.com/fEJZqhBFDO

— Champagne Gigi (@_omgigi_) October 14, 2019
Alright, who turned Pamela's ridiculous comment into a T-shirt? from r/Minneapolis
Notably, Pamela never jumped back in to respond. She was probably busy sipping vodka sodas at The Eagle, which she assumes is named in honor of America's national bird.
Keep fighting the good fight, Pamela.
- Dan Tracer
Source: https://www.queerty.com/trump-supporter-accidentally-created-gay-meme-people-cracking-20191023