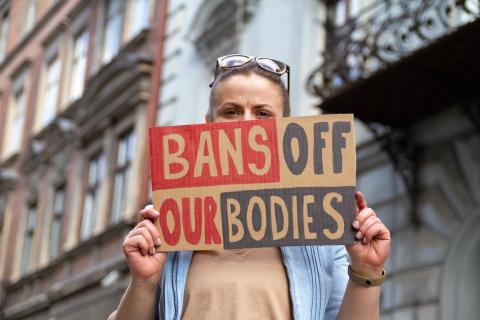 On June 24, The Supreme Court issued its decision in Dobbs v. Jackson Women's Health Organization. It overturned two cases that affirmed the right to access abortion, Roe v. Wade and Planned Parenthood v. Casey.
OutFront Minnesota recognizes that everyone has a fundamental right to sexual and bodily autonomy, including the right to decide when to become a parent and the right to do so free from violence and discrimination. Fortunately, Minnesota's Doe v. Gomez decision still protects abortion as a constitutional right in our state. But that does not mean we won't have to fight to keep that protection. Before that, however, we must know who we are fighting for.
Conversations about abortions must include all people who can become pregnant.
LGBTQ+ people need access to reproductive health care, including contraception, abortion, assisted reproductive services, HIV care, pregnancy care, parenting resources, and more. Although many people talk about reproductive health solely as a "women's issue," LGBTQ+ people—including lesbian and bisexual women, transgender men, two spirit, intersex, nonbinary, and gender expansive individuals—can get pregnant, use birth control, have abortions, carry pregnancies, and become parents.
LGBTQ+ people already face barriers in accessing essential care including:
Education
One factor is the lack of comprehensive and inclusive sex education in schools, which puts LGBTQ+ youth at risk of unintended pregnancies. It's also important to note that LGBTQ+ young people disproportionately experience homelessness and housing security and may engage in survival sex resulting in an unplanned pregnancy.
Access To Affirming Care
It's important to note that on a national level clinics affected by the ban may shut their doors. Their closures will leave LGBTQ+ communities without access to affordable healthcare. These clinics often serve as a safe and affirming space for LGBTQ+ people to access reproductive and sexual healthcare.
Poverty
One of these factors is the link between poverty and lack of access to contraception and abortion. According to a 2019 Williams Institute analysis, more than one in five LGBTQ+ adults (22%) live in poverty. The rate of poverty for cisgender bisexual women sits at 29%, while 39% of Black trans adults and 48% of Latinx trans adults live in poverty.
OutFront along with our partners in the UnRestrict coalition are committed to protecting abortion rights in Minnesota. And we will continue to do all we can to expand access to reproductive care and to ensure our state's commitments to privacy and bodily autonomy. The ban on abortions is a women's issue. But the ban on abortions is also queer issue. The ban on abortions is a trans issue. The ban on abortion is an intersex issue. The ban on abortion is a two spirit issue. The ban on abortion is an issue for all genders.
We must include trans, two-spirit, intersex, nonbinary, and gender-expansive individuals in our activism. You can support and include LGBTQ+ communities in conversations about abortion by using inclusive language that fights stigma and advances true health equity for everyone.
Here are a few examples of how to use gender-inclusive language when talking about abortion:
Instead of saying "women's issue," say "an issue that affects people who get pregnant"

Instead of saying "women seeking an abortion," say "folks seeking abortions"
All people who can become pregnant deserve access to high-quality, timely, and affordable reproductive health care.
As you continue to process, know that you are not alone. We are here to listen, validate, and provide resources. If you need a shoulder to lean on, you can speak with a trained advocate in our Anti-Violence Program at 612-822-0127, option 3.